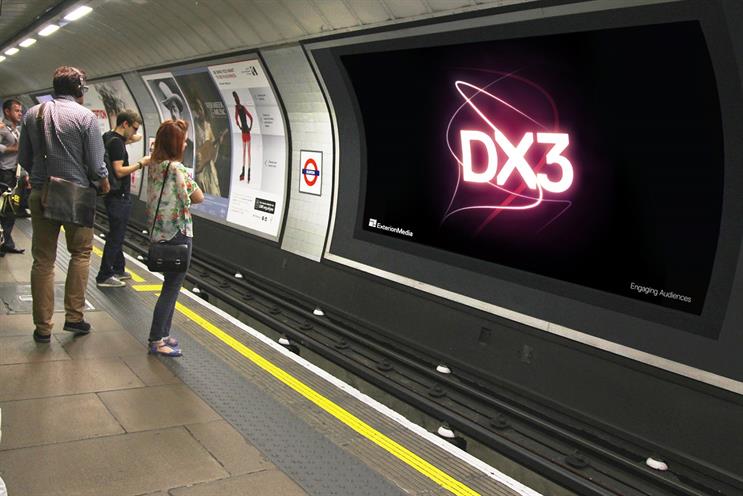 As a captive audience swells on its busy platforms, Transport for London (TfL) is working with Exterion Media and NEC to produce a "premium visual experience" for commuters.
As well as being able to display high quality moving images on huge 11 square-metre screens, the new DX3 technology feature state of the art media players that offer live feeds, video content and daily features.
Ahead of a summer 2015 launch for the launch DX3, Exterion today announced the opening of an interactive Innovation Centre in Bermondsey, south London, to showcase the new technology.
Jason Cotterrell, the managing director at Exterion Media, said: "Our next-generation DX3 screens signify a new chapter for digital out of home (DOOH), enabling targeted advertising and engaging content across the London Underground network.
"This launch sets our product development and innovation agenda for 2015 and beyond."
The number of DOOH units in the UK is set to grow by more than 40 per cent, according to Kinetic worldwide, with DX3 also allowing advertisers to tailor content to audiences based on different times of the day and location.
Two DX3 screens per platform are to be placed across 15 of inner London's busiest Zone 1 stations, including Paddington, Waterloo, Victoria and Oxford Circus.
Graeme Craig, the director of commercial development at TfL, said: "We are delighted to be working with Exterion Media and NEC Display Solutions to continue to drive innovation on the London Underground.
"We are looking forward to discovering how DX3 can be used by creative organisations to engage and entertain our customers."
The Innovation Centre opens on Monday 20 April and Extrerion expects more than 1,000 visitors to attend demonstrations and trial new content.