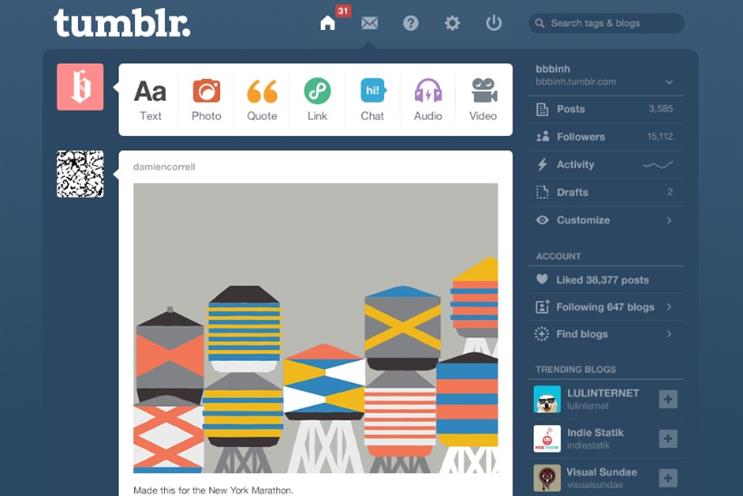 Software firm Crimson Hexagon has been granted access to Tumblr's 'firehose', giving it real-time data from the site's 24.5m blogs.
The deal gives brands a live view on standard information such as popular topics on Tumblr, brand mentions and brand sentiment.
More interestingly, it will also let them identify the use of their own logos within posts.
Worth a thousand words
Crimson Hexagon is now a handful of data partners which claim to be able to scan Tumblr and other popular social media sites, such as Instagram, for brand images.
Another preferred data partner, Curalate, uses image analysis to identify a brand's products and images within social media posts.
A third partner, Ditto, not only scans for logos, but recognisable brand patterns, such as Burberry's distinctive tartan.
Its founder, David Rose, believes that the visual web gives brands a much more rounded picture of how a brand's products are used in the wild, where it sits compared with rivals, and the other brands it may have associations with.
He told Marketing in an interview last year: "There's the relation matrix - we call it affinities. If we find an image of a Michael Kors bag, and you look at the user's photos, what else are they interested in? Are they a foodie, are they into sports?"
Crimson Hexagon has already signed up O2 and Campbell's as clients, though its visual recognition software is currently in beta.
Daryl West, social media insight lead at O2, said visual analytics allowed the operator to see the "halo effect" on its brand.
He said: "So many posts get shared across Instagram, Pinterest and Snapchat on a daily basis, and we don't know how much value that's creating for our brand or where our logo is being shared."
Visual web
It's easy to underestimate how fundamental a shift the visual web is. Almost every popular social media service employs the language of 'moments', a term that suggests visual content is throwaway and casual.
That's emphasised by the fact that services like Snapchat, Instagram and the increasingly visual Facebook use a 'feed' mechanism. Once you've scrolled past a 'moment', it's gone forever – quite literally, in the case of Snapchat.
But Facebook's European boss, Nicola Mendelsohn, has warned brands to take the visual web more seriously, as consumers move towards a 'hieroglyphics' style of communicating. Earlier this year, she revealed that branded Facebook 'stickers' for the film Despicable Me 2 saw 350m daily shares.
At the time, she said: "That's two billion instances of people using brands to express an emotion in a conversation with a friend.
"Think of this as the next iteration of LOL, where images have replaced words as a way of telegraphing emotions to a private audience."