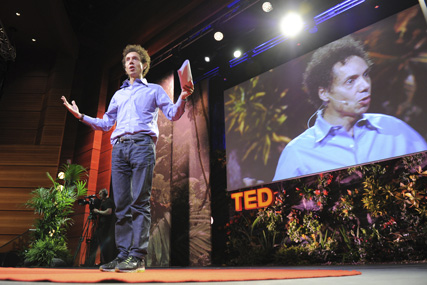 Feeling a little bit weary with the world, with heads full of the issues of the day, we arrived in Edinburgh just a touch jaded. And rattling up on the overnight sleeper had done nothing to improve the mood.
On entering TED, we couldn't help but feel that we had been invited into something approaching a cult. Everything seemed to be greeted with whoops and yelps of delight (even the instructions of how to leave the building in the unlikely event of a fire).
This audience loves freedom, the internet, graphs and robots. But, most of all, they love TED. Their love and regard is expressed initially with applause, then added whoops and finally by standing.
The frequency of standing ovations must have been unmatched by anything outside of North Korea. It's not a recipe to put us cynical Brits at ease.
And yet, the mood became strangely infectious, as one after another speaker stood up to share with us their own remarkable journey towards making the world a better place. Indeed, we have to report that optimism is infectious, and the human ability to imagine the impossible, ahead of the technology capable of making it happen, is alive and well.
The theme of TEDGlobal 2011 was "The stuff of life", and 850 delegates attended from 70 countries. The full programme consisted of three-and-a-half days packed with 14-minute talks of head-spinning diversity. The speakers were drawn from disciplines as far apart as design, history, maths, biology, dance, neuroscience, economics, music, robotics and psychology. The topics covered were equally diverse and ranged from the discovery of a contagious cancer among Tasmanian devils to how much of our behaviour is learned while we are still in the womb or whether life can be created from inorganic matter.
It's all based on the simple TED beliefs that ideas are worth spreading and that all knowledge is connected. These connections were left to each individual to make for themselves.
All the best speakers at TED had dared to ask: "What if?" And, as a result, they were pioneering new ways to challenge our understanding of how the world works (or doesn't work). What if nanotechnology could help us create clean, safe, cheap, green energy in the future? What if art could be used to inspire communities to come together in harmony? What if we could redistribute the food we currently produce to ensure no-one on the planet ever starved to death? What if man could fly like a bird using nothing for steering except his own body? What if we could persuade the world to lay down their weapons for a day?
All the best speakers were great storytellers, using their personal experiences and anecdotes to explain their ideas, dreams, fears and discoveries.
Kevin Slavin described how powerful mathematical algorithms are reshaping urban geography as banks compete to locate their servers nearer to the stock markets, so they can make their trades microseconds faster than their competitors (yes, geography still matters in the virtual world).
Josette Sheeran taught us to think of hunger as a global epidemic - a disease affecting one in seven human beings on the planet. But it's a disease for which we have a cure that only costs 17 cents a day. Any other comparable deadly disease would have been cured by now if it was as easy and cheap as this.
Malcolm Gladwell challenged our faith in the things we make by showing how a device designed to deliver bombs precisely to their intended target in World War 2 was impossible to use in the complex conditions of the real world, despite the billions of dollars invested in it.
One of the most powerful things about the TED experience is the removal of the division between speakers and audience. The speakers were there the whole time, and constantly we were reminded that we were all remarkable people who could change each other's lives. London adland was represented (Richard Huntington, Rory Sutherland and Lee Daley, among others), but you don't come to TED to talk to them. You come, as we did, to have canapes with the guys from Nasa, to have a beer with Clay Shirky or to have dinner with the co-founder of Pixar.
So, what did we really learn? That we will never run out of problems to solve. That stories can change the way people think. That the power of optimism goes a long way. That sunlight is the best disinfectant, and that the Brits don't whoop as loudly as Americans, but there is a lot to feel hopeful about.
You can see the world as a depressing place, full of awful problems, where everything seems to be getting worse by the day. But not if TED has anything to do with it.
Craig Mawdsley and Bridget Angear are the joint heads of planning at Abbott Mead Vickers BBDO

WHAT CAN THE AD INDUSTRY LEARN FROM TED?
- Have a determined optimism about everything we do. "That won't work" or "we tried that before" are not phrases you hear at TED. It's a reminder that we can achieve just about anything if we believe in the power of the human imagination, and surround problems with smart and humble people. We should always strive to be the most optimistic people in the room.
- Set frameworks for the creativity of others to flourish. Embrace trial-and-error and stop trying to pretend that we can think our way to the infallible answer. We need to allow everyone to experiment and play, with room for failure and the rigour to spot success. Sometimes these players are called "creatives" and sometimes they are called "citizens". And sometimes, even, "clients". We need to be humble in the face of complexity, and define the agency's primary role as the Darwinian ideas evolution machine that selects for innovation and excitement. - Remember that 'all knowledge is connected' and act accordingly. We need to break out of our YouTube echo chamber and seek inspiration in science, history and anthropology etc. TED reminds you that science and art are connected through the currency of ideas that have been tested in the real world. We are a part of that system, but we currently just look to other ads for inspiration, rather than lifting our heads to the wonder in the rest of the world.
- Learn the power of brevity. If you can't tell your entire story in 14 minutes, with a digital countdown clock in front of you, then you haven't worked on it hard enough. All the short talks we saw packed in more insight than any twoor three-hour meeting we have ever had in advertising.
- And, finally, relax and love PowerPoint again. The world's smartest, most inspirational and creative people all still use it.