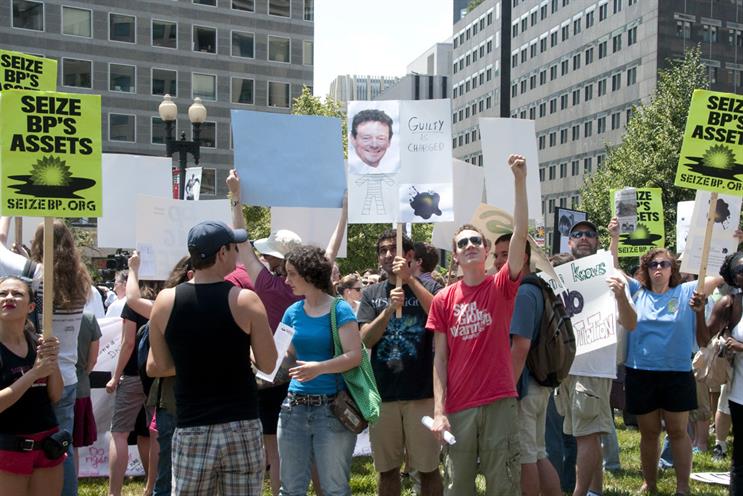 For every well-planned ad campaign, there is also a PR disaster potentially waiting to undermine it. Most recently, Tesco has had to issue apologies about the presence of horsemeat in its burgers to reassure customers.
When a crisis hits that's as big as the Deepwater Horizon oil spill in the Gulf of Mexico, it demands an all-hands-to-the-pump approach to marketing and years of attempting to rebuild reputation.
Welcome to BP's world in April 2010.
Immediately after the disaster, as you might expect, ads appeared in the press to inform consumers and show efforts to clean up.
But, more interestingly, the $93 million the oil giant spent during 2011, and every US above-the-line ad since, have been almost entirely designed to refuel goodwill towards the company.
Primarily, they have highlighted the brand's desire to rebuild local communities and provided updates on the clean-up work.
YouTube was a key medium, with the BP channel showcasing the company's work to boost tourism and help locals get their lives back together.
So was BP's Olympic Games sponsorship, designed to convey that the company is both responsibly aware and global.
The "fuelling the future" campaign and its emphasis on finding alternative energy solutions was integral to this. However, a launch ad showing Jessica Ennis running along a beach was judged by some to have got off on the wrong foot.
Sponsorship of the Cultural Olympiad and Paralympic activity have been activated below the line with events, competitions and workshops, some of which have attempted specifically to engage a teenage audience, while others aimed to regain trust in the UK and champion the company's British roots.
Print, out-of-home and online ads celebrated athletes' and workers' contribution to the Games with BP's inclusive "here's to the home team" campaign.
Any fleet-of-foot responsiveness came in the form of ads congratulating athletic ambassadors on their success and informing consumers of how many journeys were offset during the Games.
Now the brand is expected to draw a line under the oil disaster with a return next month to ads that showcase the contribution BP makes to society.
Other brands have had less environmentally catastrophic disasters to deal with and have reacted in a variety of ways.
Starbucks and Barclays tried to apologise in open letters after accusations of UK tax avoidance and Libor-rigging respectively – but still were taunted in social media.
Domino's Pizza used the need to counteract a YouTube film – in which employees abused customers' food – as an opportunity to revamp areas of its business and apologise.
The PR disaster was the catalyst for "pizza turnaround". This was a campaign that began with the chief executive apologising on YouTube and – via a massive social media drive, online delivery tracking and iPhone apps, plus taste tests, TV ads and more – resulted in a reputation that is arguably stronger than ever.


The truth may hurt – but can also help
Trevor Hardy, founder, The Assembly

"More truth, less marketing may be the right approach in the current climate, as the world of business and governments shift from one crisis to the next.
"A case in point is Starbucks in the UK and what could have been a taxing disaster for the business as many action groups, politicians and media announced their intent to boycott the brand. But Starbucks' approach was immediate and frank; not wrapped up in spin or excuses. It wrote open letters to customers, laid bare the real state of its finances in digital and social channels, and spoke in front of politicians.
"It was honest, in plain English, about where one could see questionable tax behaviour; it put a convincing case forward and encouraged debate. The power of the response across channels was that it was fast, unpolished and, like some of the best marketing, felt very little like marketing. Sometimes, the truth hurts; but, in Starbucks' case, the truth helped."


Ebiquity provides independent advertising insight and data to help advertisers improve their media perfromance. Go to www.ebiquity.com to find out more.