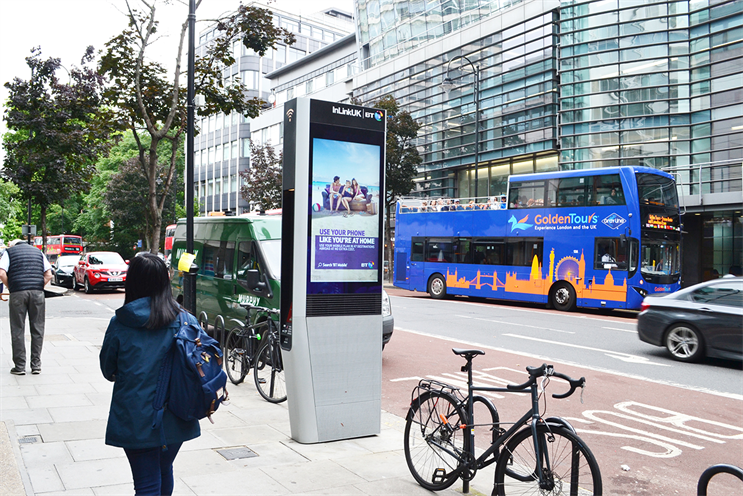 It all started with a chance meeting in late 2015 with Dave Etherington from Intersection, a US smart cities technology and media company, in New York. He showed me LinkNYC, what I called the "phone box" of the future. The product bought the fastest free public Wi-Fi and free phone calls to New Yorkers. It also included two high quality digital advertising screens.
It made an instant impression. After seeing LinkNYC in Manhattan, I knew I wanted to bring the same product to the streets of London. I remember it being 603 days from that date to the day we launched our first InLink in Camden in June last year. Between then we managed to form a joint venture with Intersection, pitched and were awarded BT's payphone contract and formed 'InLinkUK from BT', a partnership between BT, Intersection and Primesight.
The early stages of bringing InLinks to the UK, was about getting the right parties on board. BT had the nationwide infrastructure through payphones and Intersection had a future-facing product that had revolutionised the payphones of New York. As a media owner, Primesight wanted to use the product to develop Digital 6 sheets (D6s) on the best BT Payphone locations via a smart-city product that connected communities, consumers and brands in a modern and engaging way.
InLinks are a hybrid of functionality and advertising. They connect the public to the web, provide free phone calls and offers councils a way to communicate directly to their constituents. This broadens the reach and engagement for advertisers because the consumer has a positive affiliation for the InLink product.
InLinks provide a range of free public services, not least the fastest public WiFi in the UK. They also have a touch-screen tablet with a range of features including content and apps, free calls to UK landlines and mobiles, and rapid charging through USB ports. Advertising is displayed on two HD 55 inch screens that fund all the services.
We've had a strong response. In the past eight months there has been over 49,000 unique subscribers and have delivered 1.02 million Wi-Fi sessions. We have also seen 239,000 tablet sessions and 305,000 free phone calls. The data streamed so far is the equivalent of downloading over 7 million songs*. The 1 Gigabit Wi-Fi speed offered by InLinks delivers content speedily to mobile phones. A feature length film can be downloaded in seconds providing huge potential for brands with apps, trailers or exclusive content to deliver to their consumers.
From an advertiser's point of view the interesting part of InLink is the high-quality locations, blended with the promotion of free services, local events and council advertising. Brands can make their messages geographically and contextually relevant, gaining significantly higher recall with viewers.
InLink has caught the imagination of advertisers with brands including O2, Deliveroo, Amazon, Bulmers and TFL as part of the rollout. Advertisers are also seeing the advantages of content sponsorship opportunities. For instance Lavazza supported World Coffee Day around existing house content promoting the event. We are now looking to extend that interaction with the launch of InLink Rewards which will let consumers download vouchers in the entertainment, food, and retail sectors to their mobile phones to redeem at local businesses.
From a standing start in June 2017, Primesight now has 266 screens across eight London boroughs, including iconic locations such as Borough Market, Holborn and Tower Bridge – as well as in Leeds with new cities coming online over the rest of the year.
Naren Patel is chief executive at Primesight
---
*InLink data range: June 2017 to March 2018.