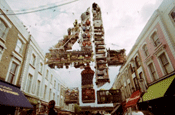 Early unofficial predictions from broadcaster sources suggest that October will see the total TV market down by 3 per cent.

Though more money could still come into the market, these estimates suggest that ITV's family of channels will be down by 5 per cent, the strong performance of its digital channels offset by an ?8 per cent fall in ad revenue at ITV1.

Channel 4 is predicted to be down 1.5 per cent across its group of channels, with its ?primary channel, Channel 4, down by 4 per cent.

Five's revenues could fall by 9 per cent while Sky Media, still hit by the absence of its channels from Virgin Media's platform, is expected to see a decline of 10 per cent. However, there is still time for these speculative figures to improve.

Multi-channel sales operations are expected to continue to grow revenues.

IDS, which sells across the UKTV channels and other digital channels, is anticipated to grow revenues by 10 per cent.

Viacom Brand Solutions, which represents MTV and Nickleodeon, is also expected to show growth.

ITV said: "We have very limited visibility and no view on October."