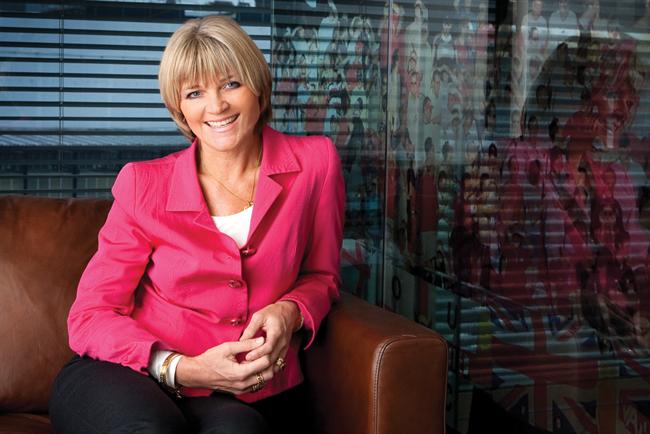 As one close colleague admits: "I knew she had been ill but had no idea of the implications and that it would be necessary for her to leave."
In many respects, Hazlitt has left the broadcaster as suddenly as she came. The self-styled "old media bird" who took over ITV's commercial operation after Rupert Howell exited in July 2010 had not been the obvious candidate for the role.
When announced, Hazlitt had been out of corporate life for two years following a dramatic stint as chief executive of GCap Media. It had ended when attempts by the management to buy some of its radio stations failed, and she settled for a £1 million payoff instead when the company was sold to Ashley Tabor's Global Radio.
Despite more than 20 years in the media business, including leadership roles at Virgin Radio and Yahoo!, she brought no TV experience to the job, and admitted to Campaign later how her appointment had been "slightly unexpected".
She joined at a difficult time for the UK's biggest commercial broadcaster, which was in the midst of a retracting advertising market and recently humiliated by drawn-out recruitment processes for both the chairman and chief executive roles - during which favoured candidates had publicly withdrawn.
Hazlitt later recalled: "When they announced my appointment, I got 734 e-mails in 24 hours. Some were saying 'Great, we love ITV' and were very nice. Some wanted to tell me what I needed to do to fix ITV and others were telling me I was insane, because it was a mess at that time."
ITV's transformation
As the summer of 2010 drew to a close, chief executive Adam Crozier revealed ITV's Transformation Plan, setting out the vision through to 2015 to ensure that the company maximises its opportunities in the fast moving media environment.
He said: "ITV's goal is to become a global, multi-platform media company with a revenue base that balances both the UK and international markets, free and pay TV as well as linear and non-linear viewing. A key part of the transformation is to ensure that we have the right teams in place, across every aspect of ITV's business, to deliver on this strategy."
A review of the broadcaster led Hazlitt to conclude the media operation had to evolve from being the most powerful advertising medium to the most power marketing medium; meaning more flexibility and innovation.
The arrival of MySpace's Simon Daglish, who had worked with Hazlitt at GCap, and Channel 5's seasoned sales director, Kelly Williams, formed the building blocks of a new sales force in 2011 - divided into multidisciplinary, client activation and strategic engagement teams.
From an operational point of view, Hazlitt's move towards an altogether more collaborative operation really began to take shape with the promotion of Ben Allen as ITV's new trading director in the summer of 2011. Allen replaced stalwart Gary Digby, who had once joked in an interview he was the "nasty horrible face of ITV that will go and beat all of our customers up and hold a gun to their head and make them spend money".
ITV's commercial recovery
By the time of ITV's last financial update in November 2014, for the nine months to 30 September Hazlitt's merry band, undeniably assisted by an improved economic climate, had become the toast of the company.
ITV posted an 8 per cent year-on-year increase in revenue for the nine months to 30 September and a sharp hike in overall revenues to £2.04bn from £1.89bn in 2013.
Chief executive Crozier said: "Our broadcast business has performed strongly with advertising revenues up 6 per cent in the first nine months. We expect to be up around 5 per cent over the full year, well ahead of the UK television advertising market and our best outperformance of the market for five years."
Revenue from production arm ITV Studios was up 10 per cent to £609m while online, pay and interactive revenue continued to be the fastest growing area, up 24 per cent to £150 million – representing growth of 200 per cent during Hazlitt's tenure.
Plans for 2015
It is notable that Williams will not assume the online responsibilities for ITV in 2015 as the broadcaster prioritises video on demand revenues. Simon Pitts, group director of strategy and technology, has been promoted to managing director, online, pay and interactive to run the business.
It follows long-form video requests by ITV Player rising 23 per cent to 328 million in the first six months of 2014. The momentum is expected to be maintained.
Crozier said: "Going forward online, pay and interactive will be managed separately within the broadcast division to give it even greater focus and momentum as we pursue our objective of building a global pay and distribution business."
Among the senior agency trading leaders, the reaction to Hazlitt's shock departure has been unusally unified (see below). Hazlitt is credited for being a positive force for good at ITV, having built a strong and capable team that provides confidence in the broadcaster's prospects going into 2015.

Jon Horrocks, head of investment at Walker Media


"News of Fru's unexpected exit is clearly a loss for ITV, but of course nobody is irreplaceable. In many ways you could argue that she has delivered in most of the areas she was brought in to deliver on. The whole culture of the sales department has changed during her tenure. We have seen fresh faces to both sales and client facing roles, and the formation of an excellent team of people around her.
"Worth noting that Fru and the team have developed the digital platform side of the business, successfully launched new digital channels, and delivered some great integrated partnerships for advertisers over the last few years.
"After four and a half years, she leaves a strong legacy behind her and one that her hire from Channel 5, Kelly Williams, will be able to continue. Kelly is an experienced operator, who I am sure is very capable of taking on Fru's role and moving the ITV sales product forward from where it is today."

Chris Locke, group trading director, Starcom MediaVest Group


"The notable changes during Fru's rule are framed in simple human truths; getting the right people in place to talk to customers (critical change) in a way that has engaged, not confronted, the whole-media, advertiser, creative community.
"This has placed creativity, partnerships and innovation at the heart of ITV's commercial offering, rather than as an afterthought. So trading, yes, but more about what else. To that end she changed the people, went from the past to the next future. All personnel have been aligned to the same vision; all looking in one direction. ITV's silos of yesteryear have disappeared.
"Kelly Williams has been an integral part of that journey. His arrival one the first real 'change' during Fru's rein. It sounded the change of the guard. He's engaged outside consultants to train ITV to change, and to both embrace and enjoy that change.
"They are still tough, but now focused on growing advertisers' businesses, and in being at the front of innovation by partnering up as required, as with Twitter Amplify?. Williams' move promises to be a seamless passing of the baton, and he will build on the work and vision Fru started."

Mark Collins, managing director of broadcast trading, Group M


"I think ITV's results, and therefore Fru's performance, speak for themselves. She has done a great job and clearly this can only have been helped by Kelly's support. It would have made the decision to promote him very easy. I believe he will do a great job.
"Obviously we hope that Fru makes a full recovery very quickly."