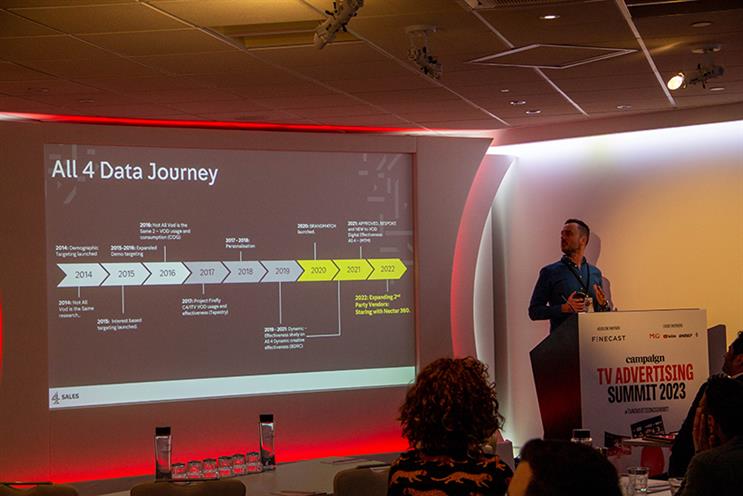 For some brands, collecting first-party data is part of their daily routine. For others, such as big-name soft drinks brands, targeted campaigns at scale are a tougher proposition.
But a partnership between Channel 4 and Nectar 360, the insights and loyalty arm of Sainsbury's, is opening up opportunities to FMCG brands – and others – to reach relevant, interested audiences more effectively.
How it works: The tech
Data (specifically email addresses) is matched – though not shared or commingled – between Channel 4's audience and Nectar's 17.5m customers to identify a relevant segment with certain shopping habits, say, gluten-free or people who never buy meat or dairy.
"We need our viewers' data, so we can deliver better targeted products for our customers," explained David Cottell, Channel 4's senior programmatic and platform sales lead, at Campaign's recent TV Advertising Summit. "We collect a lot from our viewers and we use practically everything, but what we've learned over the past three years is that one of the most important data points – increasingly the most important – is their email address."
Cottell said that Channel 4 had worked with more than 30 BRANDM4TCH advertisers across a range of sectors that all collect first-party data at source. "But we're aware that certain advertisers – FMCGs – aren't able to collect first-party data at scale. So if the likes of Pepsi don't have enough of their own data to target their existing customers at scale, we can create the next best thing, which is the opportunity to target people that previously bought soft drinks in Sainsbury's."
Why it works: The results
Late last year, Channel 4 tested 4Retail with McVitie's, McCain, Pepsi, Walkers, L'Oreal and Weetabix. "We wanted to learn whether 4Retail works ahead of launching it to the market proper in January," said Cottell. "Each of the campaigns ran for circa four weeks and were delivered at sensible frequency levels."
He added: "We're aware that broadcast VOD is seen as a great way of building brands when used as top-of-funnel marketing, but I don't think that this should be its only function. We're conscious that advertisers want to see some short-term sales impact off the back of their activity."
Channel 4 used two sales metrics: primarily the sales uplift of specific products that featured in the TV creative with a secondary metric of the uplift of any products that brand makes or, as Cottell put it, "the halo effect". 
Across the six test campaigns, the primary sales metric from the exposed group outperformed the control group by 29%. Five out of six of the test partners saw an increase in their primary sales. And in the McVitie's campaign the exposed group outperformed the control group by an astonishing 122%. 
McVitie's said: "The Channel 4 and Nectar product gave us something new in the AV space which we were really keen to be part of. The process was really straightforward and the results were positive. We are keen to continue to look into these retail data products going forward," said Carly Hunt, head of media, pladis Global. 
But one of the most telling results of the test campaign was the performance of ads that were unashamedly product-focused. The three campaigns that ran with product-focused creatives had an aggregate uplift of 56%. "Product-led campaigns really do work best," said Charlie Parry from Nectar360. "If it's not product-led then different KPIs need to be applied."
What it could become: The future
Parry wants to expand the partnership with Channel 4 to include non-FMCG brands such as British Airways and eBay who already provide benefits for Nectar card holders. 
He suggested that further customer segmentations could be added to the 115 existing pre-built segments. "We could potentially use non-endemic opportunities," he said. "For example, insurance providers targeting sunscreen buyers for travel insurance ads. We can look at how different types of stores are converting better for certain products, such as Coke within convenience stores, or Heinz beans in the bigger weekly shops." 
Parry concluded: "The partnership is still in its infancy but there's a lot more to come and we're very excited about the opportunity. Retail media can be as large as a linear TV by 2025, and could be worth up to £25bn."
Three key takeaways 
Product-focused creatives lead to best results
Campaigns that advertise new product launches are likely to perform well

Measuring campaign performance through sales uplift of products that are more likely to be bought as part of a weekly shop, rather than on impulse, will lead to better results