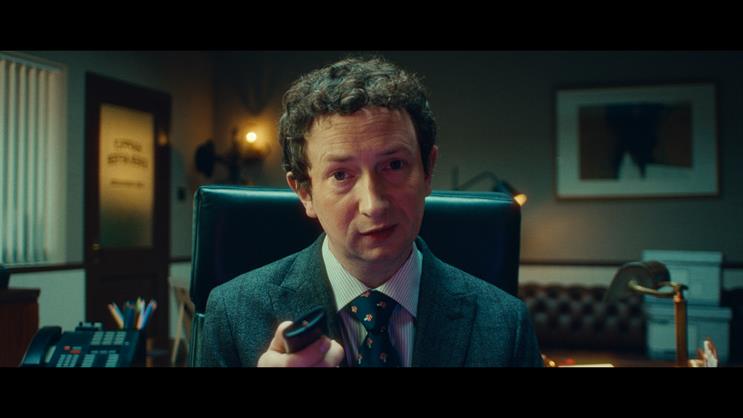 Thinkbox's new TV ad campaign tells the story of Michael Goose, a passionate and devoted lawyer, and his struggle to build his business which deals exclusively with nursery rhyme-related injustices.

After securing a lucrative pay-out for Jack and Jill (citing a public right of way and water-fetching bylaw), Goose re-invested the profits in a TV ad for his firm – and everything changed. It wasn't long before every blind mouse, eloping spoon, and popped weasel was beating down Michael's door for legal representation.



The ad dramatises a common story for many marketers: to go to the next stage of growth and scale up, they use TV advertising to drive new, widespread demand.

So here are four-and-twenty reasons why TV advertising helps brands jump over the moon (well, five actually as there's a word limit) …

Brilliant value
Whatever the budget, TV advertising gives you three bags full. TV is, on average, almost half the price of YouTube, for example, and seventeen times cheaper than other online video advertising, like Facebook. These other forms of video cost advertisers more because of their cost-per-start trading model and the ease with which users can avoid the ads.

And this is before you consider all the other environmental and quality factors that distinguish TV – its high ad completion rates, full screen viewing, high quality and brand-safe content, the fact that it is watched so much with other people…all of which influence what matters most: effectiveness.

Makes you famous
TV turns brands into household names – its twinkle twinkle makes big stars (sorry) – and fame is important in advertising. Les Binet and Peter Field, authors of The Long & Short of it, have repeatedly shown that campaigns with fame at the core of their strategy are easily the most effective at creating large business effects, like sales and profit. In fact, they are 50% more likely to create these effects.

TV's scale and reach are unbeatable, and you can't become famous if no one has heard of you. And brands on TV are making a very public promise, which, as Ogilvy UK vice-chairman Rory Sutherland points out, is powerful in itself. "Public promises carry more weight," he says, "hence why the words 'as seen on TV' are more convincing than 'as seen on Facebook'".

And the fact that TV is a shared experience also contributes to its fame-making power. Watching TV and its ads in company creates opportunities for personal recommendations, generates conversation, increases memory, and intensifies emotions.

Signals success
In advertising it's not just what you say, it's where you say it that counts, and TV is proven to be heads, shoulders, knees, and toes above others at driving the strongest fitness, social, popularity, and success signals, and to outperform other media at suggesting brand quality, self-confidence, and strength.

The least risk
Every marketer is worried about the economic outlook. They want visibility and reassurance that their media investments will deliver. Rolling the dice might be an option during the very best of times. In these worst of times, we want the safest bets possible, so our investment avoids a great fall.

Recent research by Gain Theory, MediaCom, Wavemaker and Mindshare found that the variability of returns differs significantly across different forms of advertising.

TV emerges as the safest bet: broadcaster video-on-demand (BVOD) is the least risky of all video channels, delivering just 20% of variance compared with the median return, followed by linear TV with a variability of 24%. You can be confident of what you're likely to achieve with TV advertising.

It's for everyone
Butchers, bakers, candlestick makers…TV is for everyone: every advertiser, every marketing budget, every audience.

TV reaches almost everyone. In 2021 (2022's isn't available yet), linear TV and BVOD combined reached 90.3% of the adult population each week. And BVOD in particular is vital to younger audiences, accounting for 26% of their broadcaster viewing (more than double that of the average viewer).

And it has something for almost every advertiser. More and more brands are trying TV for the first time. Nielsen Ad Intel reports that, in 2021, 1,286 advertisers used TV for the first time, or returned after 5+ years away (again, we don't have the 2022 data yet but it won't be wildly different). This followed 1,243 new TV advertisers in 2020.

Between 2015 and 2019, the yearly average was much lower, at 841. This dramatic recent increase (up 50%) demonstrates the increasing appeal of TV advertising to businesses of all shapes and sizes.

And it's important to note that these aren't just huge businesses with mega budgets. In 2021, 31% of TV's advertisers spent under £50k on TV and 54% spent below £250k. Only 29% of all TV advertisers spent more than £1 million and only 5% spent above £10 million.
***
So, during these uncertain times, with its ability to reach vast audiences, its amazing value, its fame-making power, the body language it gives brands, and its reliability of return, TV helps brands of all shapes and sizes march to the top of the hill.