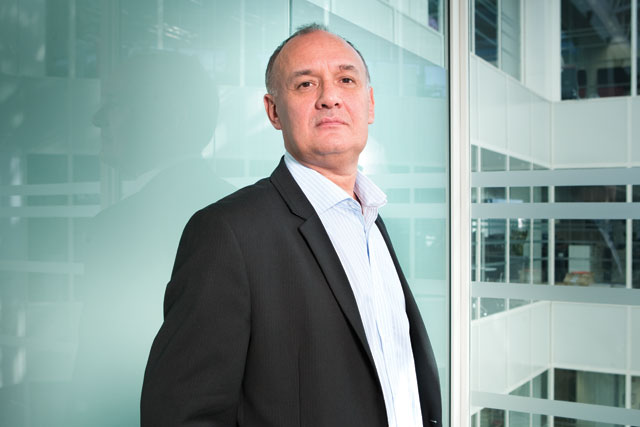 It's an interesting (interesting as in surreal and more than a little scary) time to be joining News International, especially if, like Matt Shreeve, you are happy keeping a relatively low profile. But let's not forget there are still jobs to be done in Wapping. NI has set itself the goal, no less, of transforming the way the press medium is traded - and Shreeve has recently arrived to play a lead role in that transition.
But the Leveson-inspired soap opera being staged front-of-house at NI has tended to distract people not just from the radical nature of the project he has just joined, but also from some of the grief that it has already created internally.
The refit was initiated back in September 2011 - and a restructuring process saw Dominic Carter promoted from trading director to commercial director, reporting to the commercial managing director, Paul Hayes. In the process, a number of people were let go, the most high-profile being the director of commercial strategy, Neil Jones.
Then, at the start of December, Ian Dowds, the former sales boss of the online ad network Specific Media, was hired as the sales director. He didn't last very long. Two weeks ago, as Shreeve arrived to succeed Carter as the trading director, Dowds promptly resigned. Never a dull moment.
Last year, there were all sorts of speculation that the restructure was being driven by NI's determination to make press trading more like TV trading. Well, now it has its TV dealmaker - and Shreeve just happens to be one of the best the business has ever seen. For the better part of two decades, working alongside the sales boss Andy Barnes, Shreeve ensured that Channel 4 punched above its weight in a market dominated by the might of ITV.
Interestingly, Shreeve maintains that people overplay the "TV trading" angle to his new role at NI - and, indeed, trading directors at the big media agency groups confirm they have no intention of buying press in TV cost-per-thousand terms or of looking at newspaper audiences in terms of segmented demographics.
But Shreeve is clearly keen to develop longer-term trading partnerships with media agencies and advertisers while finding ways of making online and offline budgets dovetail more effectively. Press sales teams, he implies, have traditionally spent a disproportionate amount of time haggling over trivial issues and relatively small amounts of money.
He explains: "Commoditising press in the way that TV has been commoditised would be commercial suicide. But the press model is short-term, demand-led. While acknowledging that short-term access is a big plus, we also want to put more emphasis on a more sophisticated approach."
And he reckons buyers want this too. "From an agency point of view, it's about volumes of billings," he says. "A TV buyer will commonly handle eight times the billings of a press buyer. So the cost of buying is higher in press."
Chris Hayward, the head of investment at ZenithOptimedia, agrees that NI has been astute in pulling in an outsider such as Shreeve. He explains: "He has a strong track record in large-scale negotiations, albeit not in press. Put simply, he is very good. He is very determined and very focused. He is a true dealmaker."
But, still, this is a rather improbable new chapter to his career. Back in April 2010, as David Abraham arrived as Channel 4's new chief executive, Shreeve chose this moment to announce that he had decided to take early retirement. Less than a month later, he revealed that this didn't necessarily mean he would be sitting on the promenade at Eastbourne with a tartan travelling rug over his knees when he took up the role of commercial director at the barter company Active International.
He was quite happy with his new life-work balance, he says - and was actually on holiday in Austria when the call from the headhunters came. A development, he confesses, that he was "singularly unprepared for" at the time.
He jumped at the chance - and, who knows, perhaps he'll eventually be remembered more for his work at Wapping rather than Horseferry Road.
If he doesn't do a Dowds, that is. For some, Wapping can come as a huge culture shock. But, let's not forget, Shreeve acquired his grounding at the legendary McCann Erickson time-buying unit in the 80s - a school of hard knocks whose other graduates include Chris Locke, Gary Digby, Mick Perry and Andy Jones.
The people who tend to struggle at NI are those who are insecure or "wound too tight" - and those who know him say Shreeve is supremely relaxed these days about his place in life. It's telling that, though he makes his living talking tough, he's regarded with great affection in the business.
He has a warm personality and a mischievous sense of humour. As one source puts it: "He's a smart guy - but some people are tricked by his cheerful Cockney ways."
Locke, the UK trading director at Starcom MediaVest Group, thinks Shreeve's hire holds promise: "He'll help to shake up NI's thinking - and inject a little more urgency when it comes to taking on board new ideas. Press sometimes feels like you're trying to run through mud. Shreeve will make it more like TV in the sense that, when you go to them with an idea, they're far more likely to say 'yes, let's do it'."
THE LOWDOWN
Age: 55
Lives: North London
Family: Partner, Heather; children, Tom (26) and Holly (24) from an
earlier marriage
Interests outside work: Charlton Athletic FC, reading, gardening, food,
beer, wine, family, friends, classical civilisation, more beer and wine,
country walks, travel, recycling bottles
Favourite TV show: Channel 4 News - Cathy Newman is the thinking man's
news goddess
Last book read: Cutting For Stone by Abraham Verghese
Must-have luxury: HP Sauce - I'm easily pleased, ask anybody
Motto: Never knowingly oversold