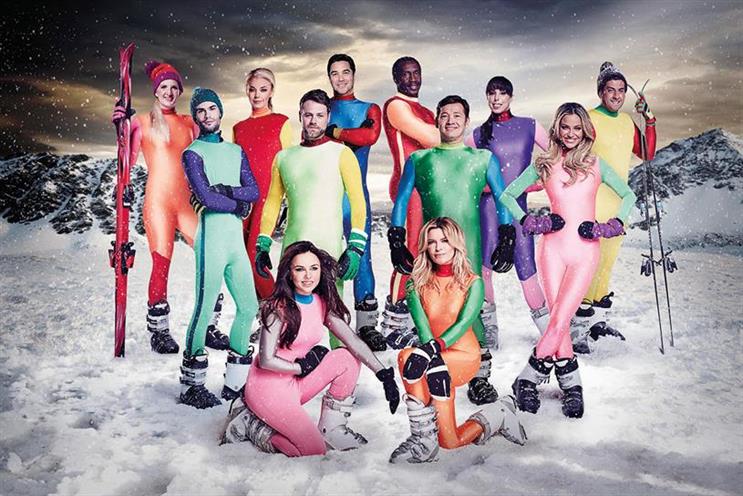 Channel 4's The Jump has been dubbed the most dangerous show on TV, with more than half-a-dozen celebrity contestants sustaining injuries in the current series. But, for some in the media industry, the greater intrigue is behind the scenes.
The Jump is co-produced by Group M Entertainment, the content arm of WPP's ad-buying group, which has provided some of the programme finance to make the show. It is part of a growing trend for media agencies and advertisers to fund and create TV content that is sold to Britain's commercial broadcasters.
But some observers worry that the relationship between advertising buyers and broadcasters is becoming blurred, particularly as funding is often made via production companies and third parties such as Infinitum Group and Krempelwood.
Few have raised their concerns publicly. But John Billett, the founder of the media auditor Billetts, which he sold to Ebiquity, has broken ranks to discuss what he calls "a shocking state of affairs".
Once upon a time, a media agency just bought TV ad spots at a discount, based on a commitment to spend a certain share of its clients' money with a broadcaster. However, when an agency might also be providing funding for shows, it could receive additional discounts, rebates or free spots in return from the broadcaster.
That raises two potential issues. First, an agency could theoretically sell those free spots to clients.
Second, if an agency and broadcaster believe programme finance sits outside their share deal, a rival broad­caster might feel it is getting a smaller share of that agency's money than it should under its own agreement.
A lot of cash is at stake. Britain's buoyant TV ad market is worth more than £4 billion a year and has got more complex in the past five years.
ITV is currently investi­gating whether Dentsu Aegis Network has stuck to its share deal, although the exact concerns are not known. Dentsu Aegis believes it has done nothing wrong.
It's not just programme finance that has taken off, with Channel 5 leading the way under the ownership of Richard Desmond between 2010 and 2014. Revenues from video-on-demand and sponsorship have grown.
Ofcom gave TV trading a clean bill of health in 2011 and decided against referring it to competition authorities, but some in the industry think the regulator should look again – especially when the US's Association of National Advertisers is investigating rebates.
Billett, who has left Ebiquity and is now the chairman of ID Comms, a consultancy that advises advertisers on media spend, has decided to raise the issue by writing a letter to Channel 4's new chairman, Charles Gurassa, and has given a copy to Campaign.
Billett's concern is about Channel 4's relations with Group M after they agreed a new two-year trading deal, estimated to be worth £250 million a year, that he claims has "the potential to damage the best interests of both our clients and those of Channel 4".
He asks Gurassa: "Would you accept that the end result of this agreement, with Group M buying out airtime from Channel 4 and selling in programmes to Channel 4, is that the price metrics for either will become an unreliable number? This makes it impossible for the advertiser to understand fully the true value of the deal they are being asked to fund and will be unable to audit it sufficiently unless Channel 4 are able to disclose the full value and details of the programming portion of the agreement with Group M."
Billett goes on: "If you accept my supposition that this arrangement is not ad­vertiser-specific and hence no more than a commodity bulk-buying operation, it follows that advertisers have no insight into what prices they will be paying on Channel 4 as part of this deal."
It means "the market price norms and media auditing data are busted", he says, asking Gurassa: "What action do you propose to rectify this imbalance?" Billett feels that it is timely to quiz Channel 4 because the government is considering selling it.
Gurassa has yet to respond, but Channel 4 strongly rejected some of the claims, saying: "Channel 4 commissions all of its originated programmes from independent production companies. Group M or GME does not sell or provide programmes to us. Instead, GME acts as a co-financing/production partner for a small number of shows that we wish to commission from independent producers, allowing us to invest more into delivering our remit. There is absolutely no conflict of interest as suggested and we retain complete editorial independence and control over programming, in accordance with the Ofcom Broadcasting Code."
Group M said that Billett showed "a fundamental misunderstanding" of GME, which "operates as an independent business, separate from Group M's media agency businesses".
It added: "GME invests in content at its own risk and negotiates commercial terms with media partners and producers around that investment for the specific show.
All business arrangements between Channel 4 and Group M are completely in compliance with all applicable laws.
"Clients of Group M agencies receive a consistent benefit in the form of favourable media pricing which GME is able to offer to clients in our group on an opt-in basis, if it fits in their media plans.
Clients can and do regularly audit their media agencies' performance, and we welcome this transparency. The needs of clients obviously remain at the heart of everything we do."
Sources note that Billett has a vested interest in drumming up business for ID Comms and say that if advertisers feel they are getting a poor deal, they should demand more from their agency or deal directly with a broadcaster.
Billett defends his decision to single out Channel 4, saying that he heard about the Group M deal and doesn't know about others.
He is not alone in feeling that the TV trading market has problems. "It stinks," one leading advertiser says. "Programme finance is distorting the market," a TV source says.
Others are more sanguine, pointing out that programme finance helps tens of millions of pounds' worth of TV shows get made that otherwise would not. There is no suggestion that intermediaries such as Infinitum Group and Krempelwood have done any­thing wrong.
One agency source says: "We saw Group M start doing programme finance and we felt we had to. Anyone who doesn't is naïve. This isn't just about the UK, it's global."
Another person used to such deals admits: "Programme finance has brought an additional degree of complexity to the market that wasn't there previously with a share deal. Is it bent? No. Is it necessarily a bad thing? No. Does it add to the woolliness of the measurement? Yes. What's the alternative? To wind the clock back 30 years?"
Yet this is an industry stuck in the past. Contract Rights Renewal, the regulation that ensures ITV adheres to long-standing contracts with advertisers, dates back to 2003.
An Ofcom spokesman said: "We have no current plans to look into TV trading."
Four very different content players to watch in agency land
GROUP M ENTERTAINMENT
The subsidiary of the world's biggest ad-buying group owns TV formats and finances the production of shows. WPP was the first big agency group to enter the space and has helped to fund The Jump (Channel 4), Cilla (ITV), The Yorkshire Vet (Channel 5) and Air Ambulance ER (Sky). UK turnover rose 46 per cent to £24.6 million in 2014, according to its last Companies House accounts.
INFINITUM GROUP
Nick Bampton, who was the Channel 5 sales director during Richard Desmond's ownership, set up Infinitum Group last year after teaming up with Media Neutral, which was founded by Damon Letzer in 2012. Letzer claims credit for Dixons Retail's backing of The Gadget Show and Maximuscle's association with live boxing – both on Channel 5.
KREMPELWOOD
Blair Krempel, a former executive at Saatchi & Saatchi and WCRS, and Mark Wood, a former commercial director of Sky, founded their company in 2008 to collaborate with TV companies and agencies on advertiser-funded programmes. Krempelwood has worked with brands such as Panasonic to fund How To Take Stunning Pictures and Mission Foods to back Mexican Food Made Simple – both on Channel 5.
DENTSU
Japan's biggest ad group owns the European TV rights for the sports entertainment show Sasuke, which was bought by ITV and aired under the name Ninja Warrior UK. Dentsu Aegis subsidiary The Story Lab acquires and makes content, including short-form video for brands such as British Gas on Channel 4, and manages sponsorship.