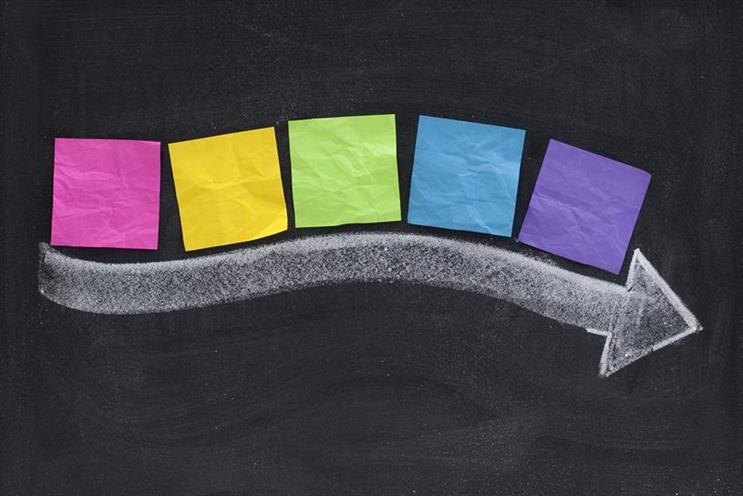 It was 1995.
Back For Good by Take That was number one in the pop charts. Forrest Gump won best film at the Oscars. John Major (who?) was Prime Minister.
War had escalated in Bosnia and Croatia. An estimated 150 million people watched the OJ Simpson trial reach its not guilty verdict.
And in April of that year, I walked into the offices of Grey Advertising wearing a brown trouser suit.
I was 24, terrified, excited; life as I know it was just about to start.
I got out of the lift at the fourth floor and made my way to the television department.
I couldn't see it though the haze of smoke and girls screaming and howling – the finance department smoking fags, discussing their weekend.
I finally found my office. All the producers had offices which they shared with their PAs. You hadn't made it if you didn't have an office.
I joined as PA to the then head of television, Amanda Lowit. She was small, scary and a superstar TV producer.
Another producer walked in to say hello and they started to chat about the shoot she'd just got back from: the creative didn't turn up on set, the hotel manager had later found him in his hotel room with a prostitute and lots of drugs. Some things don't change.
We were called 'television' back then and you had to answer your phone by shouting in a loud, intimidating voice 'HELLO TELEVISION', which my mother and boyfriend thought was very odd.
This was the phone on your desk, we had no mobiles. There was one pool 'brick' which was the department shoot phone and the only one in the agency. You had to sign it in and out for shoots and pray there weren't two shoots happening that week.
It was a good time to join Grey; there was a buzz about the place, a fizz in the air. We'd just won a bunch of awards for the Allied Dunbar campaign – "There may be trouble ahead". Twenty years on, it's one of those ads that people still remember.
After a brief induction I started to go about my duties, which included:
Sending faxes;
Typing memos on the word processor, printing out several copies, running at high speed around the building distributing them to people's desks, whilst trying not to trip over the mountains of umatics that littered the floor;
Typing budgets on typewriters with carbon copies, getting a decimal point in the wrong place and having to start all over again.
We had no email. No mobile phones. No internet. We talked to each other more, which was a good thing.
Avid was still relatively new and the tape vs film argument was just starting. Little did I know it would rumble on for nearly two decades.
A group would huddle outside a creative director's office, waiting with nervous anticipation, sweaty palms clutching the U-matic with the latest 'top breeders recommend it' Pedigree Chum ad. Would it be back down to the editor for another all-nighter or spaghetti lobster at Zilli Fish?

"Reggie and Cashmere": a 1997 ad for Pedigree Chum as part of the "top breeders recommend it" campaign
'Television' is now 'production' and I am surrounded by a hugely talented, diverse crew of fixers. These modern day culture vultures are still passionate about film and craft but alongside it comes a new set of skills: they upload, download, blog, gif, code. These production magicians quite literally make people walk on water, send chairs into space, make printers sing, create new climates, art installations, West End Shows and lifesaving paint.
Now, as head of production, I couldn't be prouder of where we are and where we've come from. The industry has changed beyond recognition over the last 20 years, but one thing has remained the same: the people. Real, honest, passionate, work-hard, play-hard.
Thank you to everyone I've met along the way, it's been the best 20 years. Here's to a few more.
Jacqueline Dobrin is head of production at Grey London