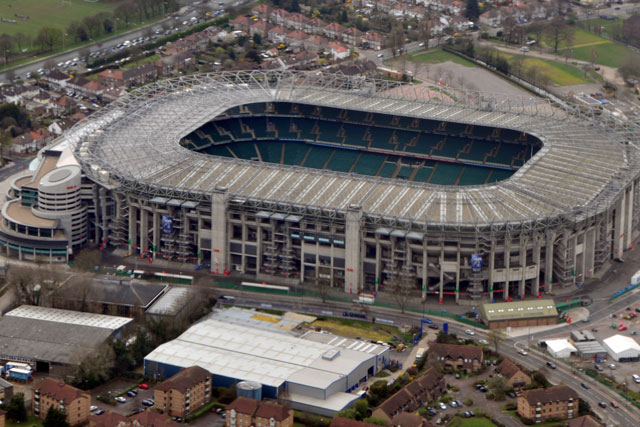 Twickenham, the home of England rugby, has been kitted out with a new LED fan-engagement and advertising system that stretches one kilometre around the bowl at pitch side and middle-tier levels.
Twickenham's pitch-side LED advertising boards have been replaced and reconfigured with taller and higher definition units.
Sports Revolution, which has become the Rugby Football Union's (RFU) exclusive in-stadia advertising partner, claims that the mid-tier "ribbon" is the first of its kind at a sports stadium in Europe and has been designed to "boost interaction and engagement with the crowd", by displaying messages and encouraging spectator support during breaks in play.
The new technology is debuting at the England's ongoing 2012 QBE Internationals at Twickenham Stadium between England, Fiji, Australia, South Africa and New Zealand.
Vange Kourentis, Sports Revolution's group commercial director, said: "We are thrilled to be part of these exciting changes to Twickenham Stadium and to partner with the RFU. This is an important development in ensuring that fans are kept at the heart of the game.
"We believe that understanding the fan and improving the match-day experience is key to building successful partnerships between rights holders, sponsors and fans."
Sophie Goldschmidt, the RFU's chief commercial officer, added: "Our work with Sports Revolution is the first stage in establishing Twickenham Stadium as one of the most digitally advanced rugby grounds in Europe. We choose our partners carefully and look for those who offer insight and understanding of what we can do to continually improve the fans' overall experience.
"The new LED system has been well received during the first two QBE Internationals and we look forward to implementing the next phase to ensure Twickenham's long-standing status as a cutting-edge stadium."
Last month, Marketing reported the RFU was considering selling Twickenham's naming rights ahead of the 2015 World Cup.