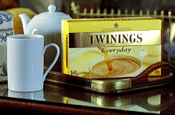 The agency, which picked up the business in September 2005, will not be re-pitching.
Associated British Foods, the brand's parent company, awarded Lowe the business, which also includes Ovaltine and Options, following a final shoot-out against Mustoes. Fallon and Mortimer Whittaker O'Sullivan were also involved at an earlier stage.
Lowe made a number of ads for the brand all starring Stephen Fry, a campaign created by the former incumbent, Leagas Delaney.
Last week, an ad by Lowe for Twinings, starring Fry, was cleared by the ASA of accusations of racism.
A spokeswoman for Lowe said that the agency had been asked to pitch for the account, but declined.