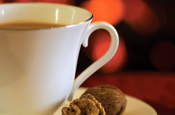 The campaign, created by Golley Slater Direct, will centre around the Twinings Tea Tasters Club, which will offer customers the choice of a six- or 12-month subscription for either themselves or as a Christmas gift.
Rebecca Braithwaite, the joint managing partner of Golley Slater Direct, said: A strong focus of the campaign will be increasing basket size to encourage each customer to increase their average spend."
An interactive online forum will also be available to customers who join the Tasters Club as part of the Christmas 2008 Twinings Direct Catalogue. Members will be able to ask questions and gain direct feedback from Twinings.

The catalogue will be mailed to the Twinings CRM database and will also be made available in the flagship London Strand store.
Twinings has also teamed up with Bodum to provide customers with a selection of offers included in the catalogue.

On purchasing any Bodum item, customers will receive a free 125g bag of loose tea, coffee or a tub of hot chocolate depending on preference.