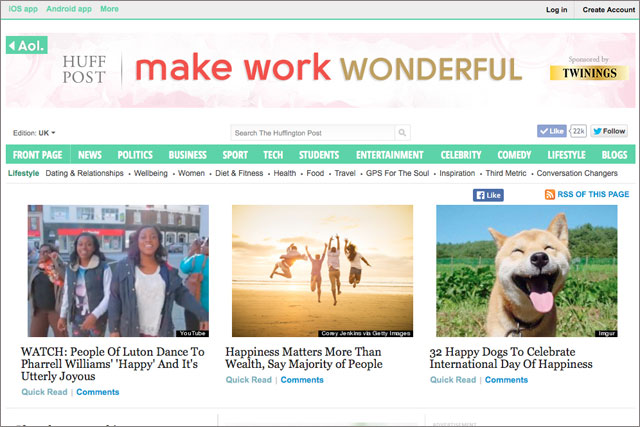 The campaign is an extension of the current 'Make Water Wonderful' TV and radio campaign, created by Abbott Mead Vickers BBDO, which aims to position Twinings' Infusions range of teas as an alternative to water.
The Huffington Post's commercial editorial team will write around 60 lifestyle articles aimed at women aged 25 to 45 when they are at work.
The articles will include topics such as "10 reasons gossiping is good for the soul" and tips for maintaining a healthy work/life balance.
The articles will go live at 3pm each day on The Huffington Post UK's Lifestyle section, with Twinings Infusions branding through the website's ad format, Sponsor Monster.
The 3pm slot has been chosen because it is a time when many office workers experience a "dip" in energy and could look for a drink other than water, according to Twinings.
The content aims to create a daily ritual amongst women, of drinking Infusions. It will be distributed on Twinings and The Huffington Post's social platforms.
The deal was brokered by Maxus, through its Maxus Partnerships division.
Laura Wade, the head of Maxus Partnerships, said brands needed "more than just amazing content" to reach consumers today.
Wade said: "Brands need to understand their audiences and this is an amazing opportunity for Twinings Infusion to find out what its audience watches, comments on and shares.
"The Huffington Post UK, a highly progressive publisher, has created the ideal platform to create, track and evolve content that excites Twinings Infusion's core audience."
The campaign will also include an SEO programme, blogger outreach activity and distribution across the content discovery platform Taboola.
It will be paired by a UK-wide office sampling campaign and a "tea-party" at The Huffington Post's London office tomorrow.
James Smith, the head of connections at Twinings, said: "Our core consumer is both health conscious and career minded, so the editorial policy of the Make Work Wonderful hub will reflect their interests."