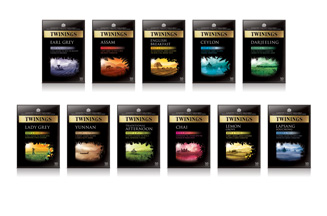 The packs, created by design agency Brandopus, are intended to clarify the different flavours in the 18-variant line.
According to Twinings, a significant proportion of its overall sales are accounted for by a few core products. The aim is to encourage consumers to try a wider range of teas.
The brand's packaging still features a black background, but there is now greater use of imagery and colours.
Each pack also carries two words intended to convey the taste of the product. Assam tea, for example, is described as 'strong & malty' while Earl Grey is characterised as being 'light & fragrant'.