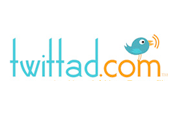 Twittad will sell ad space on users' online Twitter page, with users receiving profits, minus a five per cent fee.

Twitter allows users to send and read short messages of up to 140 characters, but has faced problems over how to monetise its services.

The ads would appear on users' Twitter pages and to the side of individual messages online.

However, Washington Post technology expert Erick Schonfeld said that few users actually visit the online homepages on Twitter.

He said: "The problem with placing ads on your Twitter page, though, is that ultimately you may just be advertising to yourself.

"The only way ads are going to work on Twitter is if they are blended into the message stream and sent out as Tweets. But that would be annoying."

To use the new service, Twitter users place their background for sale on Twittad.com for seven or 15 days, or one or three months.

Advertisers upload the advertisement into templates, purchase the background and the Twitter user gets paid.