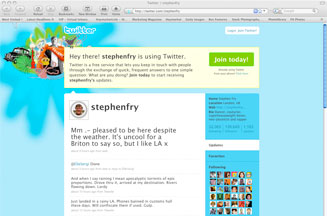 The early adopter phase for Twitter is seemingly over. UK web traffic to the micro-blogging site has increased tenfold over the past 12 months and critics can no longer banish it to the geeky realms of the self-exhibitionist technophile. Twitter is gaining traction with a mainstream audience, thanks, in no small measure, to celebrity fans boosting its profile.
Launched in San Francisco in 2006, the venture capitalist-backed site has a simple premise: it allows people to update each other via web blogs and mobile messages in response to the question 'What are you doing?'
Stephen Fry's wry, amusing answers have gained him more than 130,000 'followers' interested in conversing with him about his 'manbag' and being stuck in a lift. Jonathan Ross (60,000 followers) used the service to speak to fans during his recent suspension from the BBC, while Barack Obama (240,000 followers) 'tweeted' to encourage people to vote in the US election.
Brand presence
Computer brand Dell, an early convert to the site, has 80 Twitter groups, includ-ing Dell Outlets to tell people about specific deals and drive them to its websites to buy, and a Direct2Dell blog, which stimulates customer reviews and debate. 'Being direct is in our DNA,' says Bob Pearson, Dell vice-president of communities and conversations.
Other brands are starting to cotton on to Twitter as a means of having a genuine one-to-one chat with customers. Coffee chain Starbucks started its @mystarbucksidea Twitter account last July as an offshoot of its customer site mystarbucksidea.force.com to get customers to share their ideas with the brand. It now also has a general company Twitter account. Starbucks' 'principal Tweeter', Brad Nelson, says: 'It's like a virtual barista on Twitter; sometimes it's about coffee, sometimes it's about the company, and a lot of times it's just about life'.
Even the Labour Party is encouraging its MPs to talk to constituents via Twitter. One could argue, however, that putting brands, or politicians, directly in the firing line is a dangerous move.
Last week, for example, BBC news-room head Peter Horrocks made what he called 'an embarrassing cock-up' by announcing senior staff appointments in a Tweet to a colleague.
A Labour spokesman, though, insists that 'people have always been able to engage with their MP through older communication methods - such as by letter or in person - and this is really no different from that'.
Dell's Pearson says the concept of Twitter being dangerous to privacy or reputation is 'a myth of corporate America'. 'If people are upset, we are glad to hear about it because then we can do something about it,' he adds.
Robin Grant, managing director of social media agency We Are Social, agrees that, if used wisely, Twitter can help reduce negative word-of-mouth online and assist with brand building. We Are Social client Skype, for instance, uses Twitter to 'respond to people bitching about bad customer service or people that are asking questions', according to Grant. 'If we can respond, they tell their friends what brilliant customer service they have had from Skype.'
Ford took more of a campaign approach to promote its latest Fiesta. It backed its 'This is now' TV campaign with blogs and Twitter activity encouraging consumers to submit photos and art and design-related discussion posts. Despite Ford's Twitter activity, though, the car marque's communications manager Lisa Brankin claims Twitter remains 'niche in its appeal'. She adds: 'By itself it is not strong enough but it can be valuable as part of a wider campaign.'
Twitter's growth is heading in the right direction, but as We Are Social's Grant argues: 'Brands need to think carefully about what impact any commercial use of Twitter is likely to achieve before investing any significant resources in it.'
At present, brands can use Twitter at no cost because they simply sign up for a free profile like any member of the public.
Dell's Pearson says his company would not be happy to pay. 'If it becomes a complicated and costly model, our instinct would be to move elsewhere,' he adds. So Twitter, be warned - for brands, a revenue-generating model could end a beautiful relationship.
For its part, Twitter has stated it will hold off on such action while its 'business model is in a research phase'. Brand owners, though, should enjoy this while they can. Biz Stone, Twitter's co-founder, indicates a plan is afoot to charge for commercial accounts.