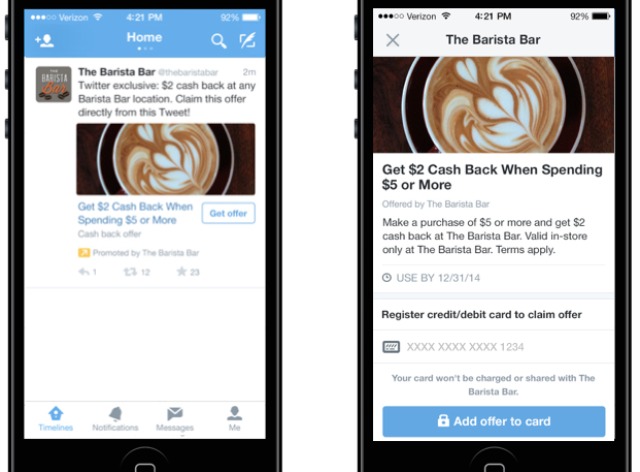 Twitter, by its own admission, has been "thinking a lot about what commerce should look like on Twitter" and Twitter Offers represents the latest move in a major push to find a relevant way to integrate commerce into its platform.
The service allows people to act on an offer on Twitter by adding their debit or credit card to the offer without leaving Twitter. This then means that the offer becomes active once the corresponding card is used in the high street store.
For both brands and Twitter itself, the hope is that by directly linking the bridge between Twitter activity and transactions will help improve the attribution of spend on the social network.
Twitter group product manager Tarun Jain, said: "With Twitter Offers, advertisers will be able to attribute redemptions directly to their campaigns on Twitter, so that they can effectively measure the ROI from their promotions, even when redemption happens offline."
Twitter will save people's card details for future redemption but has said promised that it will be encrypted and safely stored.
Twitter Offers follows the introduction of a 'Buy' button, which allows people to transact on a product mentioned in a tweet without leaving Twitter. Burberry and Home Depot were two of the brands signed up to trial the service.
Seperately, Twitter is reportedly in talks to acquire a selfie-only social network called shots, which also happens to be backed by pop star Justin Bieber. Twitter hasn't confirmed the news but its CMO sparked the rumours after tweeting out a message intended to be private.
Looks like Twitter's CFO just had the first-ever M&A DM fail. pic.twitter.com/AuLxVOBJED

— Kevin Roose (@kevinroose) November 24, 2014
Read next