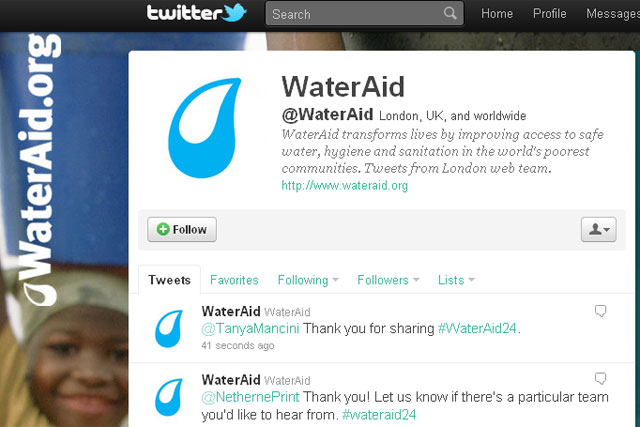 The 'tweetathon', organised in-house with support from social media agency Rabbit, will report everything the charity does over the 24 hours, including its work on WaterAid's presence at Glastonbury music festival.
The tweets begin at 12am on Tuesday morning (British Summer Time) with tweets from WaterAid in Australia and will end at 12am on Wednesday morning with tweets from WaterAid in the US.
Joe Downie, website manager at WaterAid, said: "In this age of transparency we want to show the breadth and depth not only of our work to deliver safe water, sanitation and hygiene to some of the world's poorest communities but also communicate some of the many complexities behind development."
In addition to updates on Glastonbury, WaterAid will provide information about water source mapping projects in Ethiopia and about the back office services that keep the organisation running.
Downie said: "The beauty of Twitter lies in its brevity and on the day our expert team of tweeters will be all set to condense the latest news from WaterAid's offices in Africa, Asia and the Pacific into just 140 characters. We hope supporters will forgive the occasional use of shorthand."
WaterAid is currently seeking an agency to handle an integrated brief covering TV and direct marketing. The charity has approached shops directly to pitch for the business.
Kitcatt Nohr Digitas works with WaterAid on its direct marketing and supporter recruitment business.