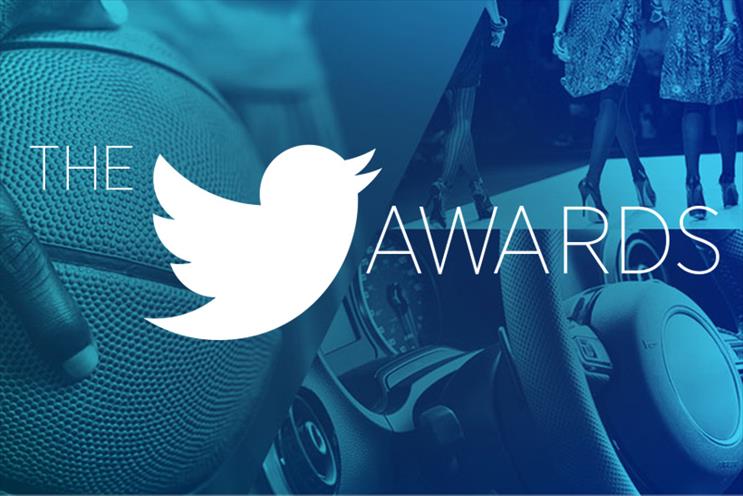 Now 10 years old, Twitter wants to recognize advertisers that "#GoLive best."
The social media platform has launched The Twitter Awards, announced Joel Lunenfeld, vice president of sales strategy at Twitter, in a blog post on April 11.
"We've seen some incredible campaigns over the last decade and want to acknowledge those who continue to influence marketing on our platform," Lunenfeld wrote.
To qualify, all submissions must show how Twitter was used in the execution of a campaign that was tweeted between Jan. 1 and Aug. 28, 2016. The winners will be announced between Sept. 28 and Oct. 2, and will be determined by a jury panel comprised of ad tech, social and business experts.
Seven award categories were created "based on Twitter's key brand differentiators," wrote Lunenfeld. Each has a unique hashtag and requirements.
#Live: recognizes campaigns that best exemplify and bring to life Twitter's live connection.
#Culture: ­recognizes campaigns that create the greatest global awareness, engagement and cultural impact.
#Impact: recognizes thoughtful strategy, business-driven results and strong campaign ROI.
#Creativity: recognizes creativity unique to Twitter through engaging campaigns, compelling ad formats and new uses.
#Response: recognizes businesses that go above and beyond in customer service, participation and valued customer connections through Twitter.
#Promote: recognizes Twitter's registered Ads API partners, agencies and developers who create and innovate in designing and building advertising tools.
#Growth: recognizes small businesses that use Twitter Ads to grow their presence and drive tangible business results.
The winner of the #Promote category will receive a $250,000 cash prize. All winners will receive an exclusive award and be promoted on Twitter's digital properties and inside corporate headquarters, said Lunenfeld in his post.
The submission site for #Promote is now accepting applications. Information about entries for other categories has not yet been released and will be posted on twitterawards.com.
The formation of the awards is Twitter's latest move to gain more advertisers. Last month, a survey conducted by RBC Capitol Markets showed that advertisers were planning to spend less on Twitter ads. Just last week, Twitter added direct messaging capabilities to tweets, but has yet to announce whether the functionality will be available to advertisers.
Twitter is the second social platform to start giving out awards to ad suppliers. In 2012, Facebook started its own awards and recently expanded the initiative to reward ads from outside America.