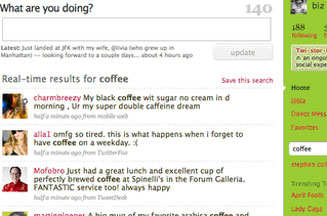 The micro-blogging site started testing search a few weeks ago, putting the search box near the top of the page and the results on a separate page.
The site has now made a change to its plans in order to make search a natural part of the normal Twitter conversation page, with tweets showing up on the home page.
The tweets on a user's home page are from the accounts a user chooses to follow. But when a user searches for a term, they are given real time tweets from the wider Twitter membership base that contain the word or phrase.
New features also include the ability to save a search, which will place the word or term permanently in a user's sidebar as a link for easy access.
Twitter is also testing a trends service, which looks at words or phrases being referenced with more frequency, suggesting that something interesting might be happening. When a user clicks on a trend link, they can read the tweets and find out what the hot topics are.