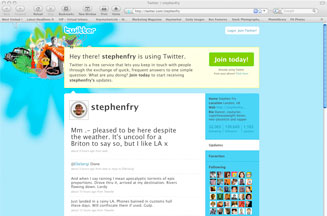 For the week ending 29 August, Twitter.com picked up one in every 400 UK internet visits and ranked as the 27th most visited website in the UK, one position above MySpace.
The social network lags behind Facebook and YouTube, but is not far behind Bebo.
While MySpace has been rapidly tumbling in popularity, Twitter has been gaining ground thanks to high profile tweeters including politicians and celebrities such as Demi Moore and Lilly Allen.
Hitwise does not include people accessing their Twitter accounts via mobile phones and third party applications such as Twitterrific, Twitterfeed and Tweetdeck, so numbers could be even higher.