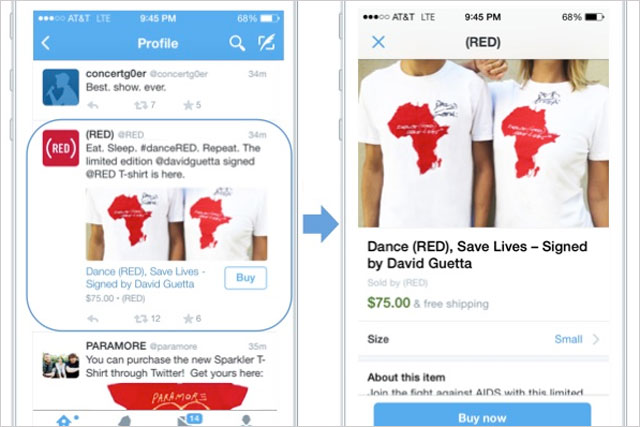 Twitter has announced a deal with the bank's mobile payments arm S-Money that will enable customers to transfer cash in a tweet, without needing to know the recipient's bank details.
Groupe BPCE, which is one of France's largest banks, will allow customers to use the service "regardless of their bank".
S-Money already enables customers to transfer money via text and the move will support Twitter's push to secure revenue beyond advertising.
The social networking site has been ramping up its move into ecommerce. Last month it tested a "buy now" button on tweets sent by selected musicians, non-profit organisations and brands in the US. The buy now button is designed to enable users to shop for products without leaving Twitter.
Burberry and The Home Depot are understood to be the only two retail brands currently testing the service, with Eminem, Pharrell and activist organisation Global Citizen also signed up.
Facebook introduced a similar "buy now" feature in July and it is anticipated it will introduce a payments feature for its messenger app.
Last week, Andrew Aude, a computer science student at Stanford University, discovered a hidden feature on Facebook that revealed the site is already equipped to handle fast mobile payments.
Nicolas Chatillon, CEO of S-Money, said: "The ease of use and immediacy of the S-Money payment solution for individuals is perfectly adapted to the Twitter user experience. It offers Twitter users in France a new way to send each other money, irrespective of their bank and without having to enter the beneficiary's bank details, with a simple Tweet."
Read next