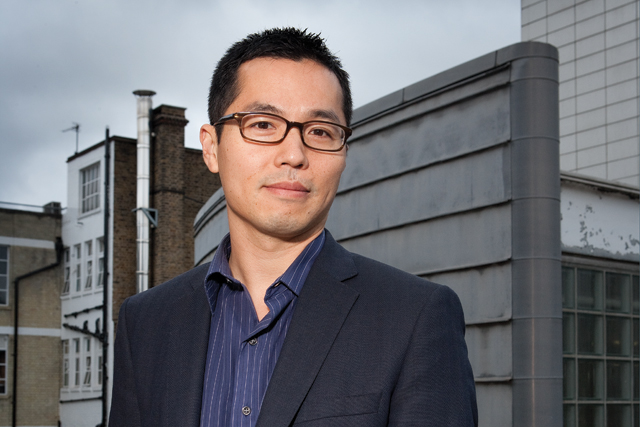 Tony Wang is the kind of man you want to do business with. The general manager of Twitter UK is sharp (he went to Harvard Law School and has worked on the legal team for Google and Twitter), polite (he was ten minutes late for our interview: "I am so sorry I've kept you," he says, genuinely concerned. "I've been with a client this morning.") and a digital media suit you can imagine going to The Ivy with. He also has a sense of humour. When he notices I'm holding a Facebook-branded pen, he gasps: "We'll have to get better at giving you stuff."
Wang and his tiny UK commercial team are just up and running. The son of a Taiwanese couple that own a successful Chinese restaurant business in America, Wang came over from Twitter US in May. He had been serving as a legal counsel for Twitter in the US since 2010, but his experience of helping Google expand into Europe in the noughties meant he was an obvious choice for the role of leading the expansion of Twitter over here.
At first, it was just Wang running around trying to get the basics in place: finding a central London office (the exact whereabouts of which is top secret), sorting bank accounts, hiring a team and meeting with media agencies. In the first four weeks, he was responding to agency contacts at 3am due to the imbalance of demand to supply, so a media source tells me, and Wang admits he lost 15 pounds. "The brand became global so much faster than where we were with resources," he says.
Now the UK sales team is up to five, with one more account executive and one more account manager due imminently, while a hunt is on for a senior business developer. Most of the sales team hail from Yahoo! and Microsoft, as well as one new recruit from OMD UK.
It is impossible to discuss the commercial opportunities of Twitter without making comparisons with the other dominating social network site: Facebook. Twitter has 100 million users, while Facebook has 800 million. Does Wang think it can match Facebook? "Oh, we're shooting for more," he says. But are brands a natural fit with Twitter? "Brands have been on the platform since day one."
Wang describes Twitter as an "information network" that "goes beyond social" since, unlike a traditional social network, it does not depend on mutual relationships.
This, he says, means brands are not intruding on social conversations, because it is natural for them to exist in a space where people are primarily there to stay informed. "With other social networks, once the connections are established, you have this problem of how to introduce the brand element," he explains. Due to the emphasis on following accounts, Twitter has a good idea of what you like. "It means we have a very rich interest graph, rather than a social graph," he adds.
Twitter, which launched in 2006, took four years to launch its first ad product, the Promoted Tweet. That was in April last year and, since then, the microblogging site has rolled out Promoted Trends and Promoted Accounts. The offerings are straightforward: they allow a brand to be more visible to a consumer by ensuring it's at the top of their timeline, the trend feed or the suggested accounts to follow. "We wanted to offer marketing tools that amplified what brands were doing organically," Wang stresses.
The Promoted Tweets ensure that the follower of a brand such as, say, Starbucks, doesn't miss out on a Tweet about Frappuccino promotions on a hot summer's day. But, unlike Facebook's Sponsored Stories product, where a brand can take a user comment or "like" and serve it up as an ad against that user's friends, brands on Twitter are currently unable to promote third-party Tweets about their company.
However, Wang says Twitter is extending Promoted Tweets in a different way. Whereas Facebook targets friends of friends, Twitter is making it possible for brands to target users who are similar to their followers by trialling brand Tweets in the timelines of users that are not currently following that brand but may be interested in it.
And after pressure from advertisers, Twitter is making advancements on its geo-location offering. The site launched its first country-targeted Promoted Trend last month with Sky, which took the opportunity to promote the third season of Glee, in a deal brokered by MediaCom. Previously, Promoted Trends were only available to US advertisers and directed at the global audience. "Country-targeted trends are now available worldwide to target users in the US, Canada, Japan or the UK," Wang notes.
Twitter has also made it clear it is "open for business" in the UK by offering its full suite of products to five launch partners: Sky, Electronic Arts, Eurostar, BP and Paramount UK, the last of which staged a Promoted Tweet this week where users could watch a live stream of the London premiere of The Adventures Of Tintin.
Ad products aside, how effective does Wang believe Twitter is for brands? "When we launched Promoted Tweets," he explains, "we started seeing a decimal missing in average clickthrough rates. Instead of seeing 0.3 or 0.5 per cent, we were seeing engagement rates of 3-5 per cent, which is fantastic." Moreover, he adds that with Promoted Tweets tied to a Promoted Trend, they see an average 7-10 per cent engagement rate - which advertisers can measure through the analytics dashboard that comes with the promoted products.
Wang believes Twitter can learn a lot from the industry built around search engine optimisation. "When search first launched, people started to realise that, if you change search copy, it affected the CTR," he says. "We think there's a good opportunity here to optimise Tweet copy. Learning to craft a good Tweet can be very powerful."
But why is a Tweet just 140 characters, then? The answer lies in the mobile. Twitter launched before the explosion of smartphones, but was smart enough to see that mobile was in its DNA. The international capacity for text messages is 160 characters, so Twitter was created to fit a 140-character message plus a username in the space of a text, so people could Tweet via SMS. And there, in Wang's words, is "the beauty" of Twitter.
TWITTER TIMELINE
April 2010: Launches Promoted Tweets with six US advertisers: Best Buy, Bravo, Red Bull, Sony Pictures, Starbucks and Virgin America.
June 2010: Launches Promoted Trends in Trending Topics.
October 2010: Launches Promoted Accounts.
May 2011: Acquires London-based TweetDeck, which enables users to manage multiple accounts on Twitter.
May 2011: Tony Wang moves from the US to set up Twitter's London office.
September 2011: Launches full suite of geo-targeted promoted products in the UK with five partners.
September 2011: Unveils Twitter Web Analytics, a tool aimed to help website owners measure Twitter-driven traffic.
October 2011: Has more than 1,600 advertisers worldwide.