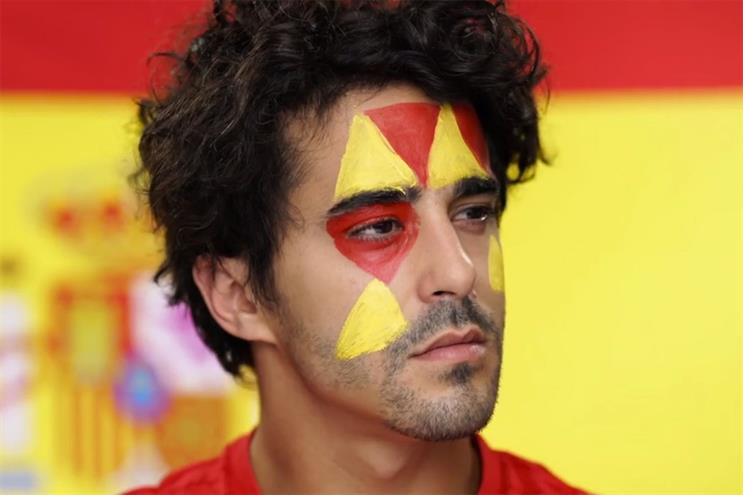 Since the last major summer sporting event, World Cup 2014, the creative possibilities on Twitter have evolved hugely.
Last year Twitter announced that video views increased 150-fold year on year, with the emergence of Periscope bringing the power of live video to the fore. Emojis continue to redefine how people communicate online. In fact the
alone was used 6.6 billion times on Twitter last year, taking on a language of its own. And new features such as Twitter Moments, Stickers, GIFs and Polls have provided a new layer to how people and brands can express themselves in a Tweet.
The brands that are adapting to these new means of creativity are seeing great success, particularly during a global event such as #EURO2016 when consumers are highly engaged.
To reflect this, Twitter has taken some of the biggest brand campaigns supported across Europe during #EURO2016 and looked at the volume of Tweets mentioning the main campaign hashtag to determine a top five. There are of course other metrics that can be used to determine success on Twitter, but this method provides a simple snapshot of the tournament so far.
We hope these examples inspire creative thinking, and look forward to seeing how brands will continue to use Twitter to connect with customers as the summer of sport moves towards #Rio2016:
#OrangeSponsorsYou (Orange)
Orange is one of the official sponsors of #EURO2016. They were determined to devise a campaign that got fans talking, and they did just that with #OrangeSponsorsYou, which was devised by Poke.
They teased the campaign a couple weeks before the tournament began with the help of French football royalty – Zinedine Zidane. If enough fans Tweeted the hashtag, it would unlock the exclusive content (Zidane's mission).
#EURO2016 is all about the fans. Tweet with #OrangeSponsorsYou to unlock Zidane's mission! https://t.co/SBNSzZssVp

— Orange (@orange) May 24, 2016
Orange invited fans to Tweet in support of their national team, knowing that the Eiffel Tower would be lit up in the colours of the country that got the most support every day.
Tweet with #ESP to show your support and light up @LaTourEiffel @Paris #OrangeSponsorsYou #EURO2016https://t.co/PFOJjn7kxj
— Orange (@orange)
June 13, 2016
Each day once the final match concluded, the Eiffel Tower put on an incredible light show, powered by Tweets by fans.
#FRA was the winning team yesterday with 73,3%! Who will be the winner tonight? #OrangeSponsorsYou #EURO2016https://t.co/JdLrvqhQkh

— Orange (@orange) June 11, 2016
They even used live-streaming app Periscope to broadcast the nightly unveiling.
EN DIRECT sur #Periscope : Who will light up the Eiffel Tower tonight? #OrangeSponsorsYou https://t.co/O1h7xXXwHJ

— Orange (@orange) June 13, 2016
#GetIn (Vauxhall UK)
With so many of the home nations having qualified (England, Wales, Northern Ireland), Vauxhall wanted to use Twitter creatively to connect with impassioned fans.
@Vauxhall took advantage of Niche, a Twitter-owned platform that connects brands to over 30,000 influential digital creators across Vine, YouTube etc. Using Niche talent from across all three countries, Vauxhall reported live from the venues in an authentic and meaningful way.
Very proud of both sets of fans today. #WAL and #ENG coming together. A real #GetIN moment for us both #Sp @Vauxhall pic.twitter.com/xIpaPoKB3n

— Matt Johnson (@Mattjohnsons) June 16, 2016
Earlier this year, Twitter launched Promoted Moments in the UK, providing brands a powerful visual canvas for storytelling on Twitter. We saw a great example of this during the England vs Wales match, when Vauxhall ran a promoted Moment.
#tifiamoinsieme (Coca-Cola Italy)
Coca-Cola's brand is synonymous with major summer sporting events, and @CocaColaITA took creativity to a new level with #EURO2016.
Determined to ensure that fans don't miss a moment, fans who Retweeted a Tweet would receive a timely reminder a few hours before the match, including a funny GIF featuring Italian footballer Leonardo Bonucci.
@elenagrazi Manca poco a Belgio-Italia e servirà tutto il tuo supporto! Tu Che tifoso sei? ?? #tifiamoinsieme pic.twitter.com/mbQK6aezIz

— Coca-Cola Italia (@CocaColaITA) June 13, 2016
Taking this a step further, by simply clicking into a Tweet fans could download all #EURO2016 fixtures onto their calendar. An auto-generated Tweet then invites his/her followers to download the calendar too, meaning that fans never miss a moment.
Ho scaricato il calendario #EURO2016! Fallo anche tu #tifiamoinsieme ?? https://t.co/37LBXAZsKH pic.twitter.com/MiPgNrxTo0

— Elena Grazi (@elenagrazi) June 3, 2016
The innovation behind this campaign is perfectly aligned with the brand hashtag, which translates as "Let's support together".
#ThisBudsForYou (Budweiser)
Budweiser, a brand whose audience is massively passionate about football, partnered with Twitter and #EURO2016 broadcaster @ITVSport to deliver real-time highlights during the tournament through Twitter's Amplify sponsorship offering.
During ITV matches, the best clips were extended onto Twitter and promoted by Budweiser to their audience with a pre-roll.
To further cement their place in the conversation, Budweiser commissioned a custom emoji, #ThisBudsForYou, and joined in with fans to celebrate the wins.
To the fans who always believed. A free Bud for everyone 18+ in #Wales. Watch this space. T&C apply. #ThisBudsForYou pic.twitter.com/roFpKP7WaH

— Budweiser UK (@BudweiserUK) July 3, 2016
#CarrefourTifaAzzurro (Carrefour)
Carrefour found a great way to interact with their Twitter followers around #ITA's tournament journey. High level executives from Carrefour were on hand to create real-time content that was being pushed out from @CarrefourItalia, based on the major moments from Italy's matches.
Ecco le istruzioni per rimontare la porta #svedese #CarrefourTifaAzzurro #ItaliaSvezia @IKEAITALIA @Edercitadin7 pic.twitter.com/tnrKqYkKep

— Carrefour Italia (@CarrefourItalia) June 17, 2016
They exploited the broad creative canvas on Twitter by using features such as GIFs, and the engagement they saw as a result of having this direct conversation with fans was brilliant.
I nostri direttori francesi non si perdono un passaggio! #BelgioItalia #CarrefourTifaAzzurro pic.twitter.com/EEAnbUthU5

— Carrefour Italia (@CarrefourItalia) June 13, 2016
And one more for good measure...
Real-time emoji updates (Volkswagen)
VW wanted to take an international approach to #EURO2016 given their presence in several markets where the conversation is unfolding.
They became one of the first businesses in the world to trial brand new responsive ads on Twitter that react live to real-world events and locations.
The result was an amazing emoji-based series of Tweets that celebrated goals and other key moments purely through emojis. As soon as something major happened on the pitch, a Tweet went out automatically summarising the action in emoji form.
???? ?? ?? ???? ?? ?? ???? ?? ?? ?? ?? #BELITA #EURO2016

— Volkswagen (@Volkswagen) June 9, 2016
Laurent Buanec is the director of brand strategy for Twitter EMEA.