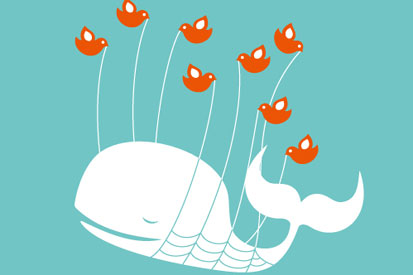 Billed as highly anticipated "real-time" search, the Twitter search bar allows users scour through current Tweets with an option to save the query for future referencing.
The inclusion of the new search bar follows Twitter's acquisition of Summize last July, the Betaworks funded start-up that had been developing a Twitter-based search engine.
The trending topics sidebar provides a snapshot of the most popular words or tags being discussed on Twitter.
Although users have previously been able to search Twitter using a separate page at search.twitter.com, the new service provides a stream of real-time results integrated into the main Twitter page.
Web analysts see this positioning as significant, suggesting that Twitter could potentially build advertising around its search results without facing too-harsh a user revolt, while simultaneously quieting its pesky revenue-critics.
As a possible preview, analysts have been watching Twitter in Japan, which launched last week chock full of banner and text advertising, without much a Tweet from users.
For the time being, marketers in the UK have a new tool to tackle the Twitterverse, with one company already taking advantage of Twitter's search function to connect brands to consumers.
ReallyWorried.com, which pools Tweets regarding health, money and relationships by searching Twitter for certain keywords, such as weight loss and quitting smoking, has attracted the attention of a number of brands who see the service as a direct link to consumers asking for help.
Twitter co-founder Biz Stone pointed out on the Twitter blog that the search function will also be useful for companies to track positive and negative buzz about their brands in real-time, something that Amazon got an early taste of last month.
The online retailer was alerted to warnings of a customer boycott after a number #AmazonFail tags began appearing on Twitter, nearly topping the trending topics list.
Amazon was bombarded with complaints after removing thousands of gay and lesbian titles from its book chart, incensing customers to organise a revolt through their Twitter contacts. The company later blamed the lapse on a cataloguing error.