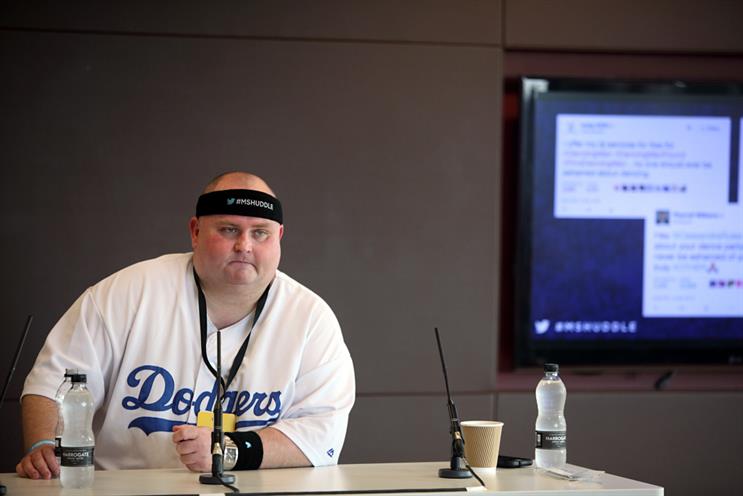 Dave Wilding, director of planning at Twitter UK interviewed Sean about how he became one of 2015's biggest social media stories while he slept, giving Huddlers the chance to explore the highs and (what's being done about) the lows of sharing on the internet.
A quick recap: After being photographed dancing in a nightclub without his knowledge, Sean O'Brien was the subject of a vile anonymous online post. One LA online browser, Cassandra Fairbanks, went to her friends on Twitter to ask what could be done to undo the damage. They set about Twitter with the question (and the all-important hashtag) #finddancingman.
By the time Sean O'Brien was woken up by a call from a friend the next morning at 7.30am, UK time, the world had responded with love and support. In order to say 'Here I am, I'm fine', Sean had to get a colleague to help him join Twitter, and by that afternoon he had 28k followers.
You can get the full story in a documentary at http://dancefreemovement.org, but what started as Sean being invited over to LA to meet a few ladies who wanted to dance with him turned into a major initiative to combat online bullying.
'I was a social media virgin,' Sean told Huddle. 'I had always seen the internet as a bit of an intrusion to be honest. Luckily by the time I knew what was going on, everything I saw was positive, but you hear so many bad stories of people self-harming when they get bullied online. I expected it all to just calm down, but I guess my story resonated with a lot of people.'
Dave Wilding (@drwilding) addressed the issue of online bullying – inescapable for Twitter, with over half a billion posts going live each day.
'Introducing things like Twitter Moments has enabled us to recap and tell more of the good stories, like Sean's,' David said. 'But the problem at the moment is that we have the media's word "troll" for the bad guys. It's used for anything from not liking someone else's opinion to really serious threats, and at Twitter I'd say we come down heaviest on the middle to far end of the spectrum. We respect free speech but there are a lot of actions in place if someone is reported. But we need an opposite to the media's term "troll". Maybe that's a 'pixie' or something, but we need to talk about those people, because they're the ones making the big difference.'
Meet Sean at the off-Huddle twitter studio anytime today, where you can dance with him and get your own vine, video or gif. He'll be sharing news about a special campaign to support the charity Anti Bullying Pro. Each time #MSHuddle is used today, you'll be invited to help raise money for the charity.