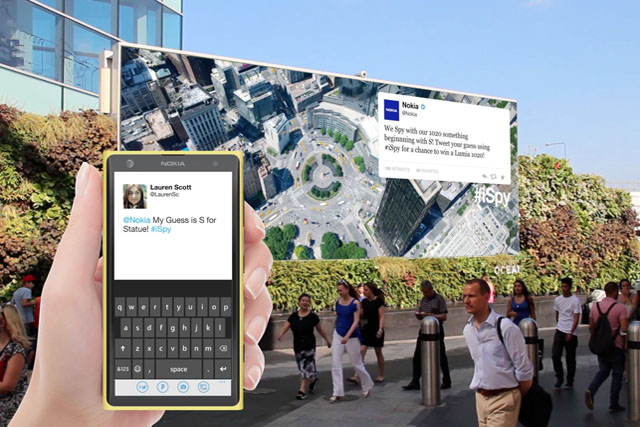 Twitter won the interactive and experiential category for its work with Nokia Lumia, which created a nation-wide game of I Spy that showcased the functionality and innovation of the smartphone's 41 megapixel camera. Using the hashtag #iSpy, audiences were challenged to spot the answers hidden within a series of images, with the winners featured on Twitter and Ocean's The Grid network. Judges called the idea "a great, clean concept."
The DOOH (digital out of home) award was taken by Liveposter's campaign for Tate Britain, which automatically matched real-time road and weather data to works of art housed at the gallery, and displayed the resulting image on screens at Two Towers West.
Net-a-Porter also used real-time weather updates to scoop third prize, using the technology in combination with gender recognition to show ads uniquely personalised the audience and season.
A judging panel comprising of 12 industry experts from media and creative agencies judged entries on full motion, subtle motion and interactivity.
Runners up for the interactive and experiential category included BETC's revamp of the classic 80's hunk TV ad for Diet Coke, which encouraged people to interact using their mobile phones. M&C Saatchi's campaign for The Brain Tumor Charity took third place, an interactive game of ping-pong controlled by the mind.
Ocean Outdoor CEO Tim Bleakley said, "This competition recognises and rewards new ways of thinking, digital out of home providing both the canvas and the palette to express these new creative ideas. The number and quality of entries this year helped to create an exceptional shortlist, reflecting the creativity community and media businesses growing love for digital out of home.
"Our winners are striking in the strength of their highly visual ideas combined with great use of technology and they deserve to be recognised for the immediacy and relevance to their target audience."
The winners will share a £275,000 prize fund and the chance to have work showcased on Ocean's locations, including Eat Street at Westfield London, the Holland Park roundabout and The Two Towers West.