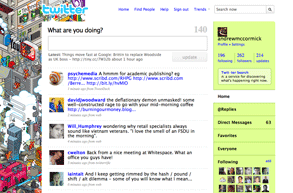 The micro-blogging service has launched a series of ads promoting its own range of services, including widgets and its new search functionality.

The in-house ads appear as a text box in the top right hand corner of on a user's profile page.

It is not known whether Twitter has plans to roll out the ad format to third-party advertisers.

Despite the growing number of brands using Twitter, the service has yet to launch a commercial model, instead securing funding through venture capital investment.

A fee-based service for companies who wish to use Twitter has also been mooted as a possible way to squeeze cash out of users.