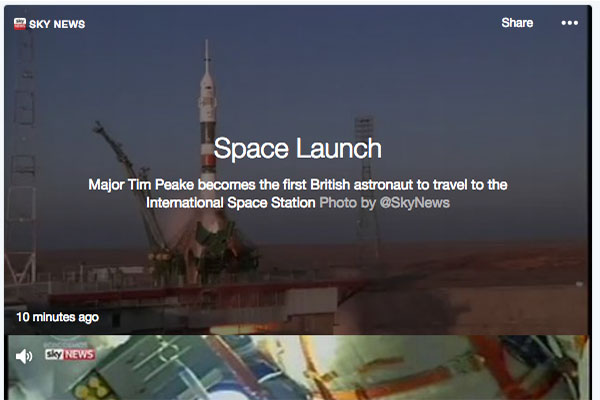 The Premier League, The Sun, Have I Got News for You, Sugarscape, Food Network, Sky News, The Economist, the Met Office, Popjustice, Global Radio, Vevo, BT Sport, Empire, and STV are also launch partners.
Moments, which has already launched in the US, allows users to tap on a new lightning bolt tab on the app which brings up the stories that Twitter's editorial team has collated.
This could be of a film premiere where people are posting their experience through Tweets, photos and videos of a sporting event, or a more serious news item such as the alleged terror-related attack in Leytonstone, in east London, two weeks ago.
Twitter's publisher partners will help contribute to the stories. They will have the ability to create a Moment but these won't necessarily appear on the main news tab called "today". Other tabs include news, sports, entertainment and fun.
Speaking to Campaign at the launch in London today, Joanna Geary, the Moments lead for EMEA at Twitter, said: "Twitter is a hugely diverse platform and the type of content there is incredible and we want to be able to reflect that.
"We also want this tool to be something that other people use, experiment with, have fun with, and build new audiences with.
"[The publishers] have the same curation tools that we have, so they have the same ability to create moments and share them out on their Twitter accounts, and then if that moment is a unique one we will feature it."
Geary added that Twitter is "hoping this will be a publishing solution as well".
There are plans to launch Promoted Moments in the UK in 2016, which will feature native ads. Dara Nasr, the managing director at Twitter UK, said that the site would focus on launching Moments to consumers in the UK first.
Promoted Moments has been launched in the US with brands such as Starbucks and Fanta using the platform. Nasr said that the UK team would look to understand learnings from the US before rolling it out in the UK.
He said that he would be in a better place to discuss a date for the UK launch of Promoted Moments early next year. Nasr added that Twitter UK has received a "huge amount of enquiries" about the feature from brands.