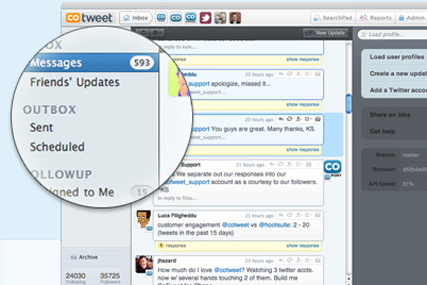 San Francisco-based CoTweet allows businesses to manage multiple Twitter accounts and track social media conversations. It is used by the likes of Coca-Cola, McDonald's, Microsoft, Ford and Dell.
Under ExactTarget's ownership CoTweet, which founded in 2008, will lead the company's social media product development and head the creation and expansion of a social media lab.
The acquisition was welcomed by Twitter which pointed to the growing maturity of businesses in the 140-character based marketplace.
Dick Costolo, Twitter's chief operating officer, said: "This acquisition is strong validation that valuable, sustainable businesses are emerging from the Twitter ecosystem. An ExactTarget and CoTweet combination should lead to even further digital marketing innovation through use of the Twitter platform."
The acquisition for the Indianapolis ExactTarget comes after a successful 2009 that saw it secure $145m in venture capital backing and open an office in London, as revenues exceeded $95m and its staff grew to around 600.
Scott Dorsey, ExactTarget co-founder and chief executive officer, said: "What we're seeing in the market is organisations are moving quickly to try to capture the potential of social, but are discovering that it's siloed and not integrated effectively with other forms of digital communications.
"By combining the power of ExactTarget and CoTweet, we can provide businesses a complete solution to tie together all forms of interactive communications and drive deeper customer engagement online."