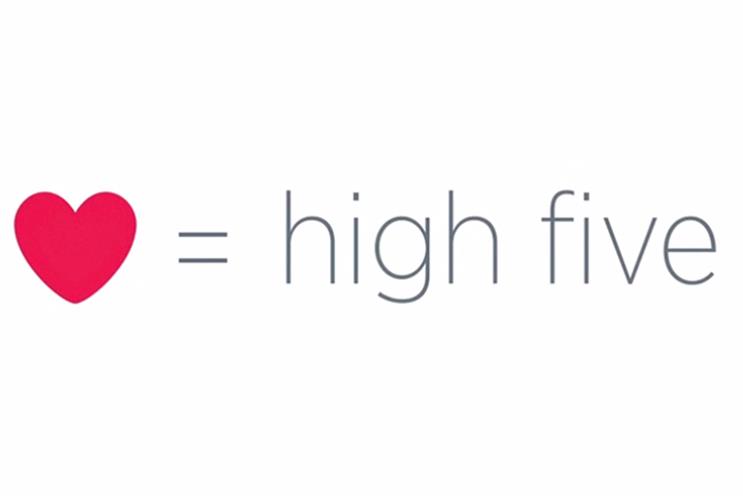 Social network functionality is changing and brands should watch closely because the tech platforms are making a serious bid to build emotional connections with users.
Facebook is testing a range of emoji-style reactions to posts and now Twitter has replaced its Favorite star button with a new Like function, which confusingly at first glance, is symbolised by a heart icon.
Calling the new rating function a Like is hardly original. Twitter's announcement suggested the heart icon is universal and more expressive than the Favorite star, and went on to claim, "In our tests, we found that people loved it."
You can say a lot with a heart. Introducing a new way to show how you feel on Twitter: https://t.co/WKBEmORXNW pic.twitter.com/G4ZGe0rDTP
— Twitter (@twitter)
November 3, 2015
The reaction of brands is likely to be more nuanced than the results of these tests. It's important to consider that Twitter is under pressure to add users after a recent results announcement revealed a slow growth in active user numbers of just four million in the previous three months.
Anything that Twitter can do to grow this base will be good news for brands and, from a global user perspective, the heart is certainly more universally appealing and travels borders with more agility than the previous star system and concept of a Favorite.
Twitter has decided against calling the new function a Love button, probably for good reason, but there's a strong logic in using the heart icon.
Its association with emotional connections will help towards a humanizing of Twitter, making it more attractive and easier for people to join the platform for the first time.
What I'd worry about, apart from the dissonance created by introducing a Like button and using a heart to symbolise it, is that the functionality seems little different to the equivalent on Facebook and other platforms. Therefore it risks eroding the value and differentiation that Twitter has built.
This is probably more of an issue for dedicated users who access non-branded posts on Twitter than for the larger audiences the platform is aiming to attract.
Brands will need to wait and see how this evolves but the move to create some consistency between Twitter and sister platforms Periscope (where the heart Like originated) and Vine is welcome.
The new function should provide greater clarity when rating Twitter posts. General non-branded posts, some of which contain unpleasant or upsetting news material can still be shared with an audience via a retweet.
The new heart function should allow for recognition of posts that inspire affection or strongly positive feelings with more emotion than the Favorite star.
This will be important for brands looking to build emotional resonance with younger audiences that have never had the levels of connection and "brand love" for products that previous generations have shown.
Twitter's new function will not break Facebook's heart because Facebook's user base and offer for brands is so well-evolved.
While it will make the platform more accessible for a new audience and for brands, this will carry the risk of alienating established users who get emotional thrills elsewhere.
Chris Buckley is the chief digital officer of TMW Unlimited