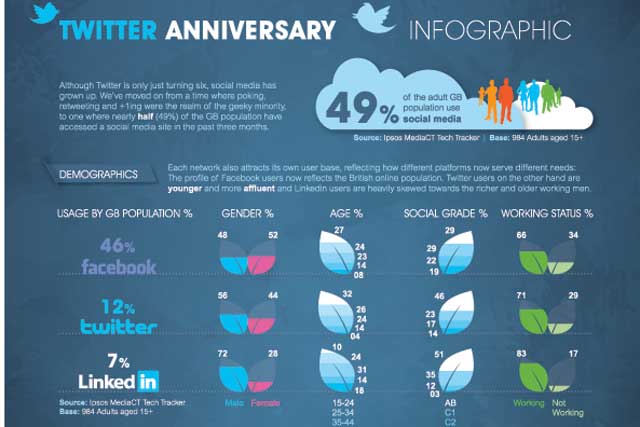 On 21 March 2006, Jack Dorsey sent the first Tweet; and almost exactly a year later, at SXSW, Twitter started to gain genuine traction, not just among the digerati but in the wider world. With growing user numbers came accelerating commercial prospects - and a "suite" of advertising products was launched in the US in April 2010 and in the UK in September 2011.
To coincide with Twitter's sixth birthday, Ipsos MORI created a special infographic to locate its place in the world of social media.- Tony Wang, Twitter's lead legal advisor in the US, was given the task of launching a UK office in May 2011. He has been steadily putting a team (20 employees as of last week) together. His most important hires include Bruce Daisley, Twitter's first UK sales director, and Lewis Wiltshire, who joined last week to head up the UK partnership programme, tasked with increasing the "engagement" of Twitter users.
Wang told Campaign: "We are looking to hire as much top talent as we can identify in sales and marketing and on the technical side."- Twitter's suite of commercial products includes Promoted Trends, Promoted Tweets (when you follow a commercial account, its Tweets can be injected into your timeline, currently on a limited basis, but that will be ramped up in the future) and Promoted Accounts (encouraging you to follow commercial accounts).- UK commercial launch partners in September included BSkyB, Electronic Arts, Eurostar, BP and Paramount. It has subsequently worked with a further 60 or so advertisers. As a private company, it doesn't disclose detailed revenue breakdowns - though that will have to change soon if (as is expected within the next couple of years) it is to seek a stock market flotation.- Commercial partners can access real-time monitoring of impressions, retweets, clicks, replies and follows.- In February, Twitter announced that it planned to introduce Sponsored Tweets to its iPhone and Android app feeds, taking Twitter commerce into the mobile domain for the first time.- Twitter's UK audience has a huge bias towards the upper-middle and upper classes, with 46 per cent in the AB demographic. It's the Conde Nast of digital media. - Worldwide (there is no UK- specific breakout), 95 per cent of Twitter's 100 million users follow at least one brand.