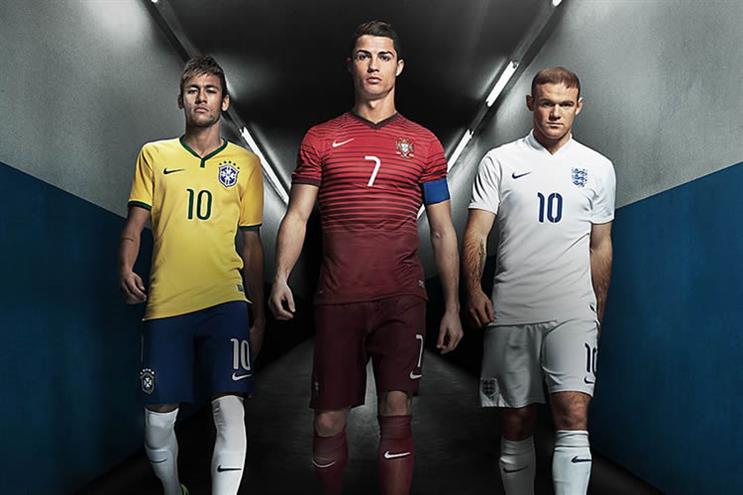 Also in Twitter's team of most-mentioned players during the past three months is Spain's goalkeeper Iker Casillas, Brazil's midfielders David Luiz and Daniel Alves, and Germany's Mesut Ozil.

The countdown for the most social World Cup yet is well under way, with Twitter reporting it has already tracked more World Cup-related Tweets this year than during the entire 2010 tournament.
Alex Trickett, head of sport at Twitter UK, notes that the live spectacle of football, along with its hype and post-match analysis, plays a big role on Twitter, responsible for seven of the ten most talked-about moments in 2013.
News of the provisional England squad was announced on Twitter last month by the official @England account. Within half an hour, the message had been retweeted more than 16,000 times, and has since garnered more than 25,000 RTs to date.
Thirty of the 32 nations competing in this year's World Cup have official accounts on Twitter. You can follow all thirty here; this graphic shows the top six most followed teams:
World Cup teams

Thirty of the 32 nations competing in this year's World Cup have official accounts on Twitter. The top six most followed teams are Brazil, Mexico, Columbia, United States, Spain and Japan. Twitter lists all 30 teams here here.
World Cup players

More than 300 players from 32 competing nations are on Twitter, follow them here.
England on Twitter
More than half of England's final 23-man squad are on Twitter, a full list of @England players on Twitter can be found here. The top five most-followed members of the final 23-man squad are:
Wayne Rooney (@WayneRooney) — 8.75M
Phil Jones (@philjones4) — 1.49M
Alex Oxlade-Chamberlain (@Alex_OxChambo) — 1.46M
Jack Wilshere (@JackWilshere) — 1.27M
Glen Johnson (@glen_johnson) — 972K
Breaking news
Twitter is increasingly used as a tool for breaking news and sharing of exclusive content. 54% of football fans polled agreed that news breaks fastest on Twitter.
Hashtags
The official hashtags for the 2014 World Cup are #WorldCup and #Brazil2014, and #3Lions is the hashtag chosen by @England's fans.
Twitter and Sport
Recent research from @Nielsen reveals that 50% of Tweets about TV in 2013 were sport related, and 492 million Tweets sent in 2013 were about sports events.