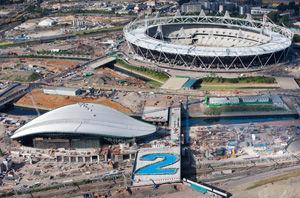 To celebrate the occasion, athletes and young people will be joining Olympic officials and London Mayor Boris Johnson on the first tour inside the Olympic venues to see the progress being made.
Gold medal winning cyclist Sir Chris Hoy will be welcoming visitors to the Velodrome by cycling inside for the first time, while former NBA star John Amaechi and young basketball players will be shooting the first hoop inside the Basketball Arena.
Today also marks the opening of the London 2012 Volunteer Programme, to recruit the 70,000 volunteers needed to stage the Games.
People wanting to apply for specialist positions such as doctors, anti-doping personnel and scoreboard operators can do so from today.
Applications for the generalist roles, which include ticket checking, uniform distribution and staffing information points, will open on 15 September 2010.
The London Mayor will also begin his hunt for 8,000 London Ambassadors responsible for making sure all visitors get the best possible welcome during the Games.
"The skyline of east London has changed dramatically over the last few months as the venues take shape," said ODA chairman John Armitt.
"It is a sign of the strong progress we have made that we are able to stage these events on the site today and give the public a glimpse inside the world class new sports venues being built for the Games. There is still a long way to go and we are not complacent but the foundations for success are now in place."
Tickets for London 2012 go on sale in the spring of 2011. More than 1.4 million people have already registered their details on tickets.london2012.com.
Further pricing information and initiatives are expected to be announced this autumn.
To leave a comment register and let us know your thoughts.