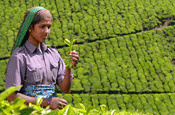 BJL won the creative business after a pitch involving three undisclosed agencies. ZenithOptimedia retained the media planning and buying account after a review.

CHI & Partners, the previous incumbent on the creative business, declined to repitch for the account.

The Manchester-based BJL has been charged with creating TV advertising to challenge the tea brand's rivals, including PG Tips, and to build Typhoo's sales, which reached £45 million in 2007, according to TNS.

During CHI's tenure on the business, Typhoo reintroduced its famous "OO" positioning that had last been used in 1990.

It ran a TV campaign last autumn to reintroduce the slogan and to highlight the level of expertise that goes into making tea.

Typhoo is owned by the Indian group Apeejay Surrendra, which acquired the business in 2005 from Premier Foods.