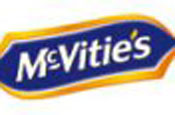 The food manufacturer put the business up for pitch in February. It subsequently invited incumbent Starcom to pitch against Vizeum and MEC.
Last year, UB spent £5m supporting its McVitie's Hob-Nobs, Fruitster, and Mini
Digestives brands and £4m on the McCoy's and Hula Hoops brands, according to Nielsen Media Research.
UB's creative account, which is held by Publicis, is not affected by the review. Calls to United Biscuits and Mediaedge:cia were not returned.