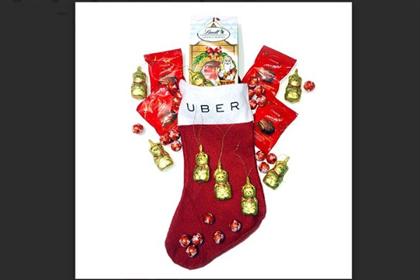 LONDON — Uber will offer free taxis throughout London and Manchester today, which will transport goods to food charities and homeless shelters including Fareshare.
The cab app brand has launched a one-day "flash" charity event, UberGiving, and will collect donations of non perishable food from customers between 2pm and 8pm Thursday and drop them to selected local charities.
Users who want to donate should swipe the slider on the app to "giving" and request a car. Lindt has partnered with Uber to deliver festive stockings filled with chocolate in return for donations.
Uber, which has previously partnered with brands including Spotify and Diageo, has been on the receiving has been hit by scandals including a recent fare hike on passengers fleeing the Sydney hostage crisis, protests by drivers of London's iconic "black taxis" in the UK and accusations that it spies on journalists.
The charity tie up suggests a new type of partnership designed to drive brand reappraisal and encourage consumers to view it more favorably.
However, Stephanie Smart, Uber London head of marketing, told Marketing the stunt was not a "direct response" to criticism and that it wanted to use its network to "give back." It had also run a similar partnership with breast cancer awareness charity CoppaFeel in February, she said.
The company would foot the bill for the cars and would pay drivers an hourly wage. UberGiving would not impact surge pricing, she added.
"We haven't done anything like this in London before," she said, "We've been thinking about this for a few months and this time we wanted to give something back to the people. We wanted to use our logistics network for good."
This article first appeared on marketingmagazine.co.uk.