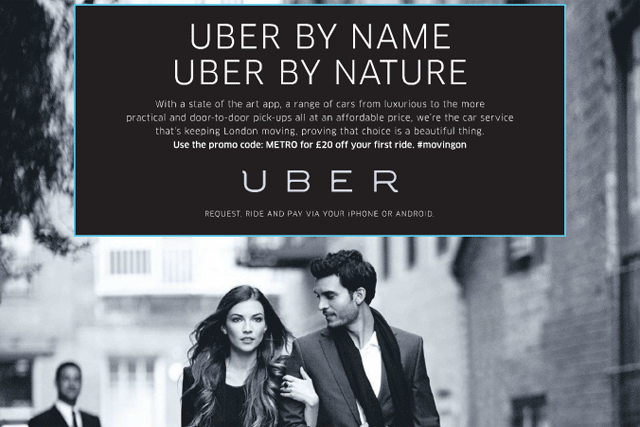 The ad is headed, "Uber by name, Uber by nature". It reads, "With a state of the art app, a range of cars from the luxurious to the more practical and door-to-door pick ups at an affordable price, we're the car service that's keeping London moving, proving that choice is a beautiful thing."
London's black cab drivers are protesting from 2pm today against what they call a lack of regulation of the Uber car service.
Cabbies are unhappy that Uber's mobile booking app calculates taxi fares, which they claim is the equivalent of a taxi meter, a service that only black cabs can legally use in London.
London's cab drivers have already applied to the High Court on the issue, claiming that the service is the equivalent of Uber breaking the law.
Steve McNamara of the Licensed Taxi Drivers' Association, said: "We have nothing against competition but we feel that Transport for London has failed Londoners by allowing Uber to operate outside the law."
Uber is backed by companies including Google and Goldman Sachs. It operates in over 100 cities across 37 countries.
The London cabbies will be joined today by striking cab drivers in Rome, Paris, Berlin and Milan.