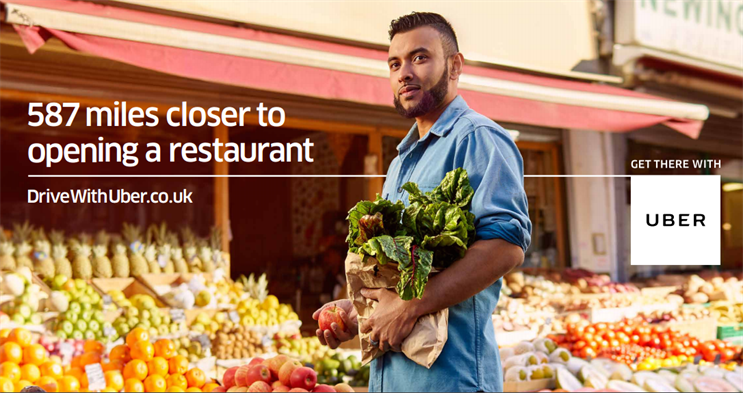 The out of home campaign, "Get there with Uber", was created by Bartle Bogle Hegarty and launches on Monday in five cities – London, Leeds, Manchester, Newcastle and Liverpool, with Arena Media as the media agency. It includes six creatives featuring both drivers and riders, with text explaining why they use Uber.
Uber's marketing lead, Rachael Pettit, said the campaign represented the evolution of the brand.
"We've been really strong on innovative word of mouth stunts, just great virality of the product, and it's that evolution of a company that's still relatively young in its marketing life cycle," she said.
"It's also about the rebrand that we had at the start of the year – we thought this would be a great opportunity to showcase our riders and drivers, and the fact that we do have a really different brand image now.
Pettit added that the ads were designed to communicate Uber's positioning as an increasingly essential component of the transport mix.
"If you look back through our history, we started off as a luxury, then moved to being more of an affordable luxury, and now we're kind of an everyday joy. We really have broadened out our use cases, and the way people use our services."
To find the stars of the campaign, Uber held a casting session for about 40 users in its London office, looking for those with "the most intriguing and approachable story," according to Pettit.
Alongside the ads, the campaign will call on Uber riders and drivers to share selfies through social media. Pettit says this could potentially be used to recruit the stars of future instalments.
Uber has this week extended its ridesharing service, Uber Pool, to Zone 2 of London – a move that Pettit said would make it a viable travel-to-work option for many people living in inner London.