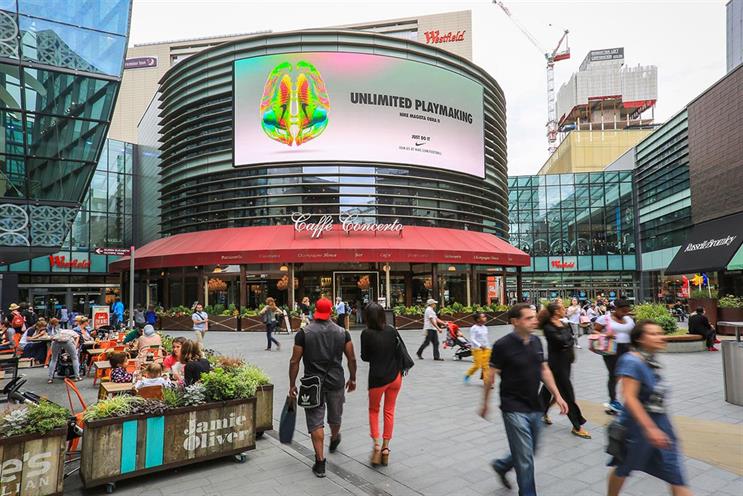 The Advertising Association/Warc Expenditure Report has revised up its full year growth forecast for 2016 by one percentage point to 5.2% after UK spend grew by 5.1% to £10bn in the first six months.
However, the forecast for 2017 has been downgraded by half a point to 3.3% as the impact of Britain's vote to leave the European Union begins to unfold.
The report showed that H1 growth was 0.4 percentage points ahead of forecast, with adspend reaching £10bn for the first six months of 2016.
Online spend continues surge; out-of-home and cinema exceed forecasts
Growth in internet adpsend surged by 16.9% to reach £4.7bn over the period. Within this, mobile spend grew 52.6% growth year on year to £1.7bn. Internet adspend is forecast to grow 15.7% this year and 9.5% in 2017. Internet (including mobile) rose 16.6% to £2.4bn during Q2 2016, representing 48% of all UK adspend during the quarter.
Out of home also performed strongly after growing almost four percentage points head of forecast to £273m in Q2 – a 9.6% increase year on year. This was driven by 30.5% growth in digital OOH to almost a third of OOH spending in the first six months of the year. Growth for total OOH is forecast to grow 4.8% in 2016 and 2.4% next year.
Jason Cotterrell, UK managing director at Exterion Media, said the positive OOH growth reflected the "transformational change" in the sector.
He said: "The industry's ongoing investment in new digital and data-driven solutions is absolutely redefining the effectiveness of out-of-home campaigns – from how they are planned, through to execution across both digital and classic assets, and how they are measured."
"The UK adspend market is showing welcome resilience, but with any uncertainty on the horizon, advertisers will be looking at how they can be confident of the best returns from digital spend across media channels. In this environment, OOH is holding its own against spend online, through social and mobile, and more traditional forms of broadcast media, such as TV."
Cinema adspend rose 13.7% year on year to £45m in Q2. This was 1.8 percentage points ahead of forecast and puts cinema on course to reach a total of £248m for 2016 – up 3.5% on 2015. Further growth of 2.6% is forecast in 2017.
TV growth weakens while radio, newsbrands, magazines and direct mail fall
However, TV spot spend has been downgraded after performing weaker than expected in Q2. TV spot expenditure grew 0.8% year on year in the second quarter and 2.1% for the half-year to £2.39bn. TV is now expected to grow by 1.5% in 2016.
Radio adspend fell by 2.2% year on year in Q2, but overall for H1 increased by 0.5% to £242m. Radio is forecast to grow 1.6% this year and 0.8% next year.
National newsbrands' ad revenue dipped 7.3% year on year to £270m in Q2, with print adspend down 9.2% to £218m and digital up 1.4% to £52m. Total national newsbrand adspend is forecast to go down by 9.3% in 2016, and a further 10.4% in 2017.
The picture is even worse for regional newsbrands, whose ad revenue fell for digital (down 10.4% to £49m) as well as print (down 12.7% to £263m) year on year in the second quarter of 2016.
Meanwhile, magazine brands' adspend fell by 5.1% to £225m during Q2, with print falling 7.7% to £300m in H1 and digital increasing by 3.3% to £133m. Magazines are forecast to see a decrease in spend this year by 4.3% and a further 5.5% drop next year.
Direct mail adspend fell 13.3% in Q2. The vast majority of this decline was recorded among small/medium companies which are not subsidiaries of the Royal Mail. AA/Warc has forecast total direct mail adspend will be down 10.6% in 2016, with a dip of 7.3% forecast in 2017.
Tim Lefroy, chief executive at the Advertising Association, said: "Investment in UK advertising remains strong this year, and the trend towards digital and mobile continues – but the medium term is more complex.
"The Government should avoid any regulatory uncertainty that might affect advertising's stimulus to the economy."