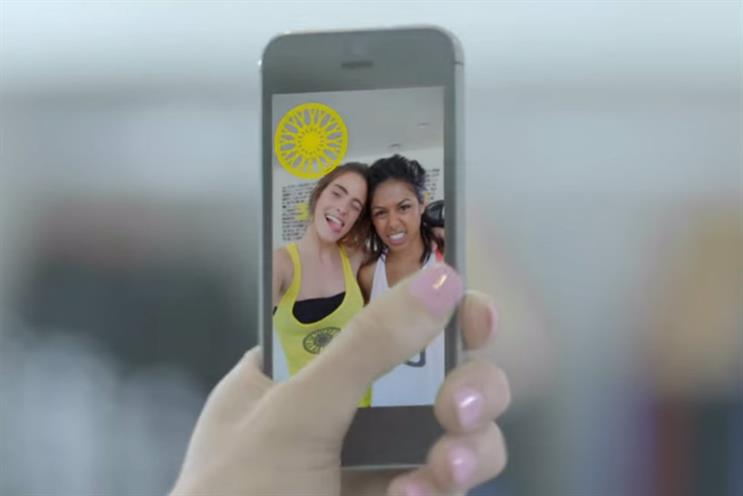 The social media platform also expanding the availability of its ad formats, testing vertical video ads with a limited number of UK brands.
The company only opened up to UK advertisers in November, meaning brands are currently testing the waters rather than funneling in large chunks of media budget.
But one agency source told Campaign that Snapchat was unlikely to eat into digital media budgets in the near-term, since Facebook, Google and Twitter offer considerably more reach.
Snapchat is tight-lipped on pricing, though sources told Campaign price varies according to the day a campaign runs (a Friday or Saturday is more expensive), whether it is restricted geographically, and who is being targetted.
As a benchmark, Campaign understands that the Department for Transport spent £30,000 on a Snapchat filter and £33,000 on a 10-second video ad for its "Think!" drink driving campaign, negotiated by its media agency Carat.
A DfT spokeswoman said: "The advertising channel mix for the 'Think!' drug drive campaign was chosen to maximise reach among the target audience.
"The use of new applications such as Snapchat, which has eight million UK users, helps us reach different audiences, change attitudes towards drug-driving and ultimately save lives."
The filter got more than 700,000 uses and 13.2 million views, she added.
The DfT filter allowed Snapchat users to take a selfie, then superimpose prison bars over the image with the caption: "Drive high? The roadside swab will catch you."
The filter ran on a Friday during March in England and Wales. The video ad was available for four weeks.
What advertising is available on Snapchat?
Currently brands can choose between a sponsored filter, sponsored lens, or video ads.
A filter is static, and lets users superimpose an image over their own.
Lenses require more technical wizardry, with Snapchat's technology identifying where a user's face is in a photo, then dynamically adding effects on top (as shown below).
Video ads appear within content curated by Snapchat and its publishing partners and run for 10 seconds.
The DfT's Snapchat spend tallies with what little the platform has said about its rates, which content boss Nick Bell described as starting in the "tens of thousands". Snapchat's PR team likes to point out that a sponsored geo-filter starts for as little as $5 (£3.45).
Now Snapchat is increasingly pushing its vertical video ad offering in the UK, which offers brands more targeting options and positions the platform as more broadcast than social.
"Snapchat sees Snapchat as a broadcast channel," says Hannah Beesley, social director at Iris. "It is very much discouraging brands from call-and-response type campaigns, and more towards creating content and promoting that.
"That's why they're pushing [video ads] within Snapchat's Discover channels. It isn't set up to be a conversational platform between the brand and fans."
Snapchat's Discover channels (pictured below) comprises content from its publishing partners, which in the UK include The Sun, Sky News, Sky Sports and the Daily Mail.
There's also Snapchat Live Stories, which pulls in curated snaps from users, usually themed to an event such as the UK mayoral election.
Video ad slots of up to 10 seconds are available to brands to run in both Discover and Live, but only in limited beta. Both publishers and Snapchat are closing ad deals, Campaign understands.
Is advertising on Snapchat effective?
Views on Snapchat's efficacy are mixed. One agency source tells Campaign: "When we looked at video ads, the cost per view is not as cost-effective as Facebook. They try and sell the specific audience that's hard to reach – but Facebook makes more sense at the moment."
But it all depends on what you're trying to do, and who you're trying to reach, say others.
Coca-Cola launched the first branded Snapchat filter in the UK last year, which outperformed expectations, according to Luke Bozeat, the joint managing director at MediaCom.
"We had good success, and it over-delivered versus our estimations because it was timely to Christmas," he said. "I've seen other branded filters where the reason for it was less clear."
Bozeat added: "Comparing Facebook, Snapchat and Twitter – they all have very different levels of engagement and different types of usage.
"If you're trying to reach loads of people in one quick go, Facebook is more efficient."
Stuart McClennan, the head of biddable activiation, social, video and paid social media for iProspect, adds that Snapchat's cost-per-view is "extremely low".
"This is because Snapchat counts a view similar to how other networks count impressions; in other words, if the video loads, that's a view even if the user skips instantly past the video," he says.
The UK team is hiring
Snapchat opened up shop in the UK in November last year, with its local sales operations headed up by Claire Valoti, formerly the head of agency relations at Facebook. Its UK team mostly comprises alumni from Twitter and Facebook, including creative chief Will Scougal, meaning agencies are dealing with familiar faces.
It is on a hiring drive in the UK, with at least eight roles open for its London office. It also appointed Kavan Seggie, the founder of video chat service AddLive, as its UK director in April. AddLive was acquired for $30m by Snapchat in early 2014.
One new role is that of a business marketing manager, suggesting Snapchat UK wants a way to explain to brands en masse how its advertising works ahead of opening up the platform more widely.
While brands are still experimenting with Snapchat, agencies have talked up its appeal to 13- to 34-year-olds and its position as a new, shiny tech platform.
Jody Shilliday, the director of social and programmatic media at Fetch, says there are particular opportunities for brand video ads on Snapchat, pointing to Unilever as an example. The FMCG brand has bought ads on the Food Network's Discover channel, for its stock pot brand Knorr.
"Burberry advertising on Snapchat isn't a surprise, it's always a first mover," says Shilliday. "But an FMCG brand slotting into a channel where I'm looking for recipes – that's quite relevant and the creative caught my eye. There's a big opportunity for brands."
As Snapchat works on rounding out its measurement and targeting capabilities – the firm has partnered with Millward Brown, Nielsen, Tune, Kachava and Adjust – and its case studies, its appeal to brands will only increase, particularly in video, Shilliday adds.
MediaCom's Bozeat agrees. "My assumption is that they're building to get some good case studies and examples of activity," he says. "It's difficult to scale just yet, but the early signs seem reasonable."