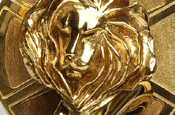 Leo Burnett with Procter & Gamble's Fairy "Script" and Radioville with the Lexus Hybrid "Switch", alone flew the flag, grabbing a bronze Lion apiece.
Despite a purported renaissance in the use of radio, there was a dearth of entries from the UK, said the jury president David Guerrero.
A two minute Snickers ad, "Hoedown", from Clemenger BBDO, Melbourne, snatched the Grand Prix after four rounds of voting lifted it above an ad for Geronimo Condoms from Grey Worldwide, Johannesburg.
The US dominated the golds, with DDB Chicago (Bud Light) and TBWA\Chiat\Day, New York (Combos Pretzels) taking ten and four respectively.
South Africa cleaned up almost all the rest, with Grey Worldwide, Johannesburg (Geronimo Condoms) winning three, the Jupiter Drawing Room, Johannesburg (Senokot Laxative) bagging another three, and Lowe Bull, Johannesburg (Axe deodorant) claiming one. JWT Manila, Makati city (Lotus Spa) walked away with two.
"The Snickers ad demonstrated respect for me," said Guerrero. "A big two minute production for a big fmcg product demonstrates a level of commitment and investment which thinking about radio creatively can bring."
In "bedroom" for Geronimo Condoms, you are asked to imagine your parents having sex, with all the accompanying sounds. The suggestion is that you will have to do something to put you off sex unless you buy Geronimo Condoms. "I smelled things and saw things I never want to again [while listening]," said juror Duncan Bruce, senior vice president and executive creative director at Publicis, Toronto.