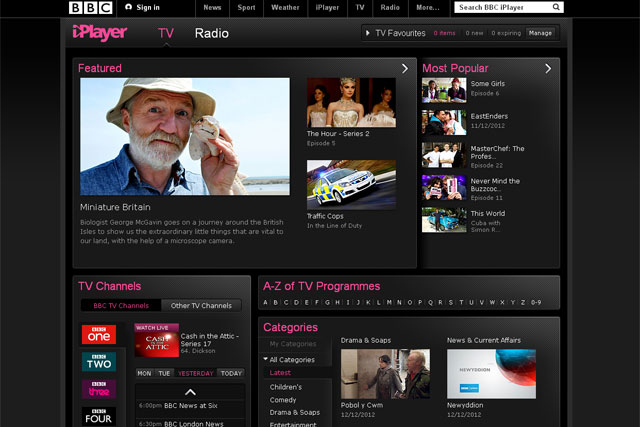 The body claims findings from its International Communications Market Report, based on research across 17 major countries, prove the UK is becoming "one of the first all-digital" nations.
UK consumers are the most likely, globally, to access TV content over the internet, with almost a quarter (23%) of UK web users claiming to do this every week with catch-up services including BBC iPlayer, Sky Go and 4OD driving the trend.
The US ranked second with 17% and Spain was in third with 16%.
People in the UK watch more than four hours (242 minutes) of TV every day on average, with only the US (293 minutes) and Italy (253 minutes) watching more.
Smart TVs are now owned by 15% of UK consumers, while the UK's obsession with technology also means the country has one of the highest penetrations of smartphones at 57%.
Meanwhile, just under one in five (19%) of the population now owns a tablet computer.
The high take-up of mobile devices has resulted in UK consumers downloading more data on their mobiles and tablets than any other nation surveyed.
In December 2011, the popularity of social networking, streaming videos, web browsing and downloading music in the UK led to the average mobile connection using 424MB of data across the month.
The UK came top in terms of data usage, ahead of Japan in second place with 392MB of data and the US in sixth with 319MB, according to independent data.

An Ofcom spokesman revealed that independent data was used for this metric because Ofcom's own data would not be comparable across different markets.
The research found one sixth (16%) of all website traffic in the UK was now via a mobile device, which is the highest in Europe.
The boom in mobile traffic, which has resulted in over a fifth (23.1%) of UK consumers using their devices to visit retail sites, has helped the UK become the heaviest ecommerce spenders per head, with average spend now £1,083, up 14% from £950 in 2010.

James Thickett, director of research at Ofcom, said: "Our research reveals that the UK leads the way in using the internet on the move. Increasingly, it's mobile devices like smartphones and tablets that are driving this growing demand for data – and in the UK it seems to be social networking sites that are behind this in particular."
This is the seventh time Ofcom has carried out its International Communications Market Report, which examines take-up, availability, price and use of broadband, landlines, mobiles, TV and radio.