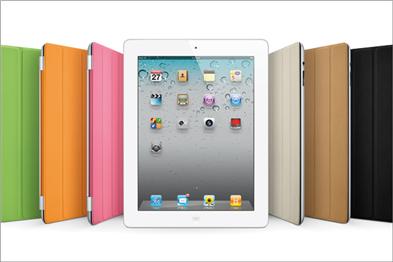 The study provides an in-depth picture of what it is that prompts UK consumers to purchase Apple iPads, Amazon Kindles and Sony e-readers, how they go about using them once they have them, and the kinds of content they consume on these devices.
We find that tablets are so popular that many households get more than one, iPad users can't stop going online, and many Kindle owners get around to reading e-books every day.
Who's buying the tablets?

Unsurprisingly, the iPad is trending young, with more than half of owners aged 44 and under (53%).
There's a bias towards men too, as almost two thirds (64%) of Apple's iPads currently end up in male hands.
For Amazon, it's a different story: 66% of Kindle owners are aged 45 and above, and there's much more of a gender balance on ownership than with the iPad: 57% of Kindle owners are male and 43% are female.
User data for Sony's e-reader confirms the e-book demographic trend: 64% of those in the 45 and over age bracket using this particular device to read their books.
Interestingly, just over half of Sony users are paying for their e-readers, with spouses accounting for almost a third of purchases (32%).
That contrasts with the two-thirds of Kindle owners who paid for their devices out of their own pockets.
As for iPad users, 71% stump up themselves, though 8% are fortunate in getting their companies to purchase the tablet for them.
Predictably, hardly anyone gets an employer to pay for devices to read e-books.
Usage and payment of devices
Source: YouGov

Why this tablet?

So, why have people ended up with the tablet they have? For the iPad, users really value the device's portability - significantly more so than Kindle and e-reader owners - with 68% citing the fact that it is lighter and easier to transport than a laptop computer as a reason for getting one in the first place.
Also driving iPad purchase is the fact that it has features owners really want (57%) and that it offers something different from laptops and smartphones (58%).
(And true to the Apple ethos, 59% say that they go for the iPad because the brand is known to produce high quality products, while 57% say they already own Apple devices and like them.)
The quality of the Sony brand is the main reason given by e-reader owners for acquiring the device, with 38% citing this as a factor.
However, the fact that they already own Sony products is less likely to influence purchase (20%). Around one-third say it important that there are features on the device they want, and that the e-reader is more portable than a laptop.
For Kindle owners, it's overridingly the device's features that win them over, with 61% of users giving these as a reason for purchase.
They also appreciate that the Kindle is lighter and more portable than a laptop (46%) and that it has a different offering to laptops and smartphones (35%).
Reasons for purchasing device (by main device)
Source: YouGov
What to do with a tablet?

That iPad owners want to go online with their tablet is undeniable: 92% of them use the device to surf the web.
Sending/reading e-mails is also high up on the list of activities (84%). Viewing photos, playing games, reading newspapers/ magazines and looking at short videos are also popular activities.
Forty two percent of iPad users like to go long-form and watch full-length films/TV shows, while just under half listen to music. Some 53% use the Apple tablet to read books.
And these are very regular habits too. Almost all iPad owners go online and deal with e-mails on a weekly basis. Plus every week, 94% game, and 93% read papers/magazines.
Even watching movies and TV shows has become habitual, with two thirds of users tuning in every single week.
In fact, daily usage has become ingrained with many iPad owners. Three quarters of them go online on their iPad every 24 hours, with almost as many (73%) checking e-mail when they are there.
Reading newspaper/magazines (52%) and playing games (48%) are also quotidian activities.
Frequency of activities participated in (by Apple iPad)
Source: YouGov
Unsurprisingly, reading books is the dominant daily activity for Kindle owners, with more than half (53%) doing so every day.
Close to one third (31%) say they turn to an e-book between three and six times weekly, and 7% on a once-a-week basis.
Every day, 28% read newspaper/magazines, while 15% surf the web (29% say they go on the web three to six times a week).
More tablets please

The majority of tablet households - 81% - boast a single device, but 17% of homes have multiple tablets.
Some 13% of Sony e-reader users have two or more, rising to 15% for Kindle and 17% for the iPad.
The fact that other people in the household are using the primary device is the most common reason given for purchasing another one: in such homes, for example, 40% of Sony owners say their partner using the reader has led them to acquiring an additional tablet, while 14% of iPad say that their children getting their hands on the device has driven them to buy another.
Reasons for mulitple devices in household (by main device)
Source: YouGov
Appetite for apps?
iPad owners like apps, with 22 the average number downloaded (including pre-loaded) for Wi-Fi-only devices, rising to 25 for Wi-Fi & 3G tablets.
Consumers with Wi-Fi & 3G iPads spend more than those with Wi-Fi, paying on average £5.01 a month compared to £4.31.
Games are the most popular content purchased: close to two thirds of Wi-Fi and Wi-Fi & 3G owners buy games.
eBooks are also in demand (54% and 58%, respectively), while a around one quarter of all users pay to download movies (22% and 25% respectively).
While tablets have been around for a while in various formats, it is only really with the release of the iPad back in Spring last year that the category has grown.
2011 is going to hot up with the release of more Android and Windows 7 devices.
While understanding current owners is extremely interesting, it is the second wave of tablet owners that will shape the market in the future and dictate which tablets are likely to succeed and which are likely to fail.
Our study shows that the 'second wave' of owners are more likely to be female, and more likely to be older, contrary to those current owners that are of a classic early adopter profile of ABC1, young males.
YouGov's TabletTrack programme interviews up to 2,000 tablet and e-reader owners, as well as a 2,000 nationally representative sample to understand who the potential owners are, what devices they will purchase, reasons why, and what the device may replace. The service is run four times a year, tracking the market as it grows and including new tablet devices as they are launched.
All figures in this article are from YouGov's TabletTrack wave 2 report (November 2010). YouGov interviewed 4,357 respondents between 8th November and 15th November 2010.
Russell Feldman, associate director, technology and telecoms, YouGov