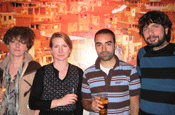 Zoe Hough and Miranda Abbs from agency Lean Mean Fighting Machine, beat 19 other creative groups from across Europe to win the gold award.

The other UK team, Enrique Reija and Borja Alvarez of St Lukes, came in second.

UK judge Stef Jones, of Big Al's Creative Emporium, said: "The originality of the winners' insight and the simple execution made this entry a unanimous choice across the whole jury."

To compete in the competition, held last week, the teams had to come up with a creative execution that fulfilled a brief set by Lego to promote its warrior toy series 'Bionicle'.

The two UK teams were selected to represent their country in the contest after winning the Newspaper Society's the wanted ads young team of the year competition.

Enrique Reija said: "It's a great feeling to have won the second prize.

Having the chance to go to Stockholm and compete against the rest of the countries in Europe was amazing.
"Thanks to the wanted ads young team of the year award we were lucky enough to be offered a job trial at St Luke's agency, so entering was really good for us."

Winners Hough and Abbs have earned the chance to attend the Cannes Lions advertising festival in June.