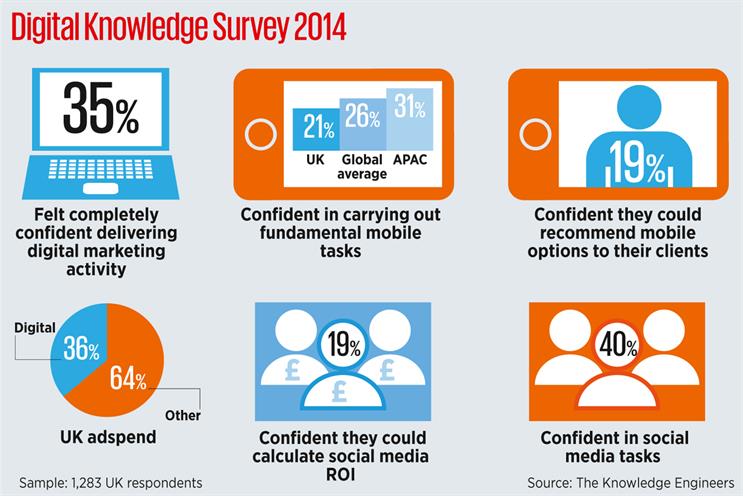 Digital Knowledge Survey 2014, which involved 1,283 marketing and media employees from the UK (out of a total 8,000 participants), found that only 35 per cent felt "completely confident" delivering digital marketing.
Figures for mobile marketing revealed that just 21 per cent of participants were confident in carrying out fundamental mobile tasks, compared with a global average of 26 per cent. Only 19 per cent felt confident enough to offer mobile options to clients.
Social media fared better, with 40 per cent indicating that they were confident in performing tasks in this discipline. However, only 19 per cent were confident that they could calculate social media return on investment.
One of the key areas in the UK is search – 37 per cent of those surveyed stated that they were confident in this area, compared with a 25 per cent worldwide average.
The industry is still lacking in digital skills, according to the study, with 27 per cent of participants suggesting that the greatest barrier in digital was the lack of specialists.
This wealth of job opportunity is reflected in the finding that 35 per cent of UK digital employees surveyed had changed jobs within the past year.
Niall McKinney, the founder and chief executive of The Knowledge Engineers, said: "As digital overtakes print to be the second-largest advertising medium globally, it is essential for organisations to understand whether they have the right skills to maximise their digital opportunity.
"The UK leads the world in some areas of digital marketing like search, but needs to catch up quickly in others like mobile."
The Knowledge Engineers is a strategic partner of Haymarket, the publisher of Campaign.