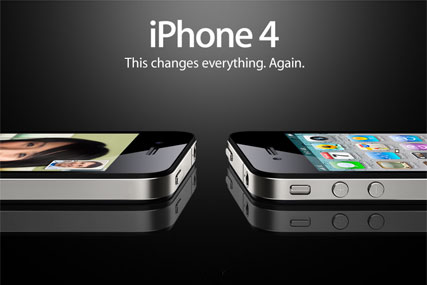 The latest smartphone, which goes on sale today (24 June), upgrades the iPhone 3GS and features the new OS4 operating system as standard. It is also 24% smaller than the 3GS model, which launched a year ago and sold more than a million units in its first weekend.

The handset will be available on all major phone networks including O2, T-Mobile, Vodafone, Orange and Three. However, O2 has already admitted to shortages in stock, restricting the phone to its existing customers only.

Apple claims the larger battery inside the new model gives the phone 40% more talk time, and adds that users will be able to browse a 3G network for six hours before recharging.

Many shops throughout the UK have been opening early to meet demand, with O2 taking advantage of its numerical branding by opening the majority of its stores at 8.02am today.

Apple's flagship Regent Street store in central London will also open early to deal with the expected demand for the new phone, with some customers sleeping outside overnight since Tuesday to get their hands on the new model.

The iPhone 4 was unveiled earlier this month at the Worldwide Developers Conference in San Francisco, by Steve Jobs, the Apple chief executive.

On Tuesday, Apple also announced that globally it had sold its three millionth iPad, just 80 days after its introduction in the US.

Jobs said: "People are loving the iPad as it becomes a part of their daily lives. We're working hard to get this magical product into the hands of even more people around the world, including those in nine more countries, next month."